case study: IVY HOUSE FARM, SOMERSET
About Ivy House Dairy
In 1982 Geoff and Kim Bowles moved to the small village of Beckington set on the edge of the Mendip Hills and began farming a small herd of Friesian cows. In 2000 as the price of milk continued to drop and a bypass scheme had come through the farm, they realised something had to change as they could no longer survive as mainstream farmers, so they decided to diversify.
They bought 20 Jersey cows and a cream separator from his Uncle. 20 years later Ivy House Farm is home to 120 organic cows, supplying customers all over the South of England.
The family is in the heart of the business at Ivy House Farm Dairy, with all family member's being involved in some way. Geoff and Kim's Son, Darren, is now is charge of farm operations. After studying at Brymore School and Lackham College where he gained a distinction in Agricultural Management, he travelled overseas for two years' gaining experience on farms in New Zealand before returning to work on the family farm.
The farm has been organic certified for over 20 years. The herd graze on organic clover pastures most of the year, providing nearly 70% of the herds milk from forage and complemented with baled silage all year round. Baled silage helps keep fats high at 5.58 % average, for optimum cream yield, reducing bloat and stabilising the milk fat for frothing in the coffee shops. They feed 1.2 tonnes per cow per year of organic cake to top-up nutrients.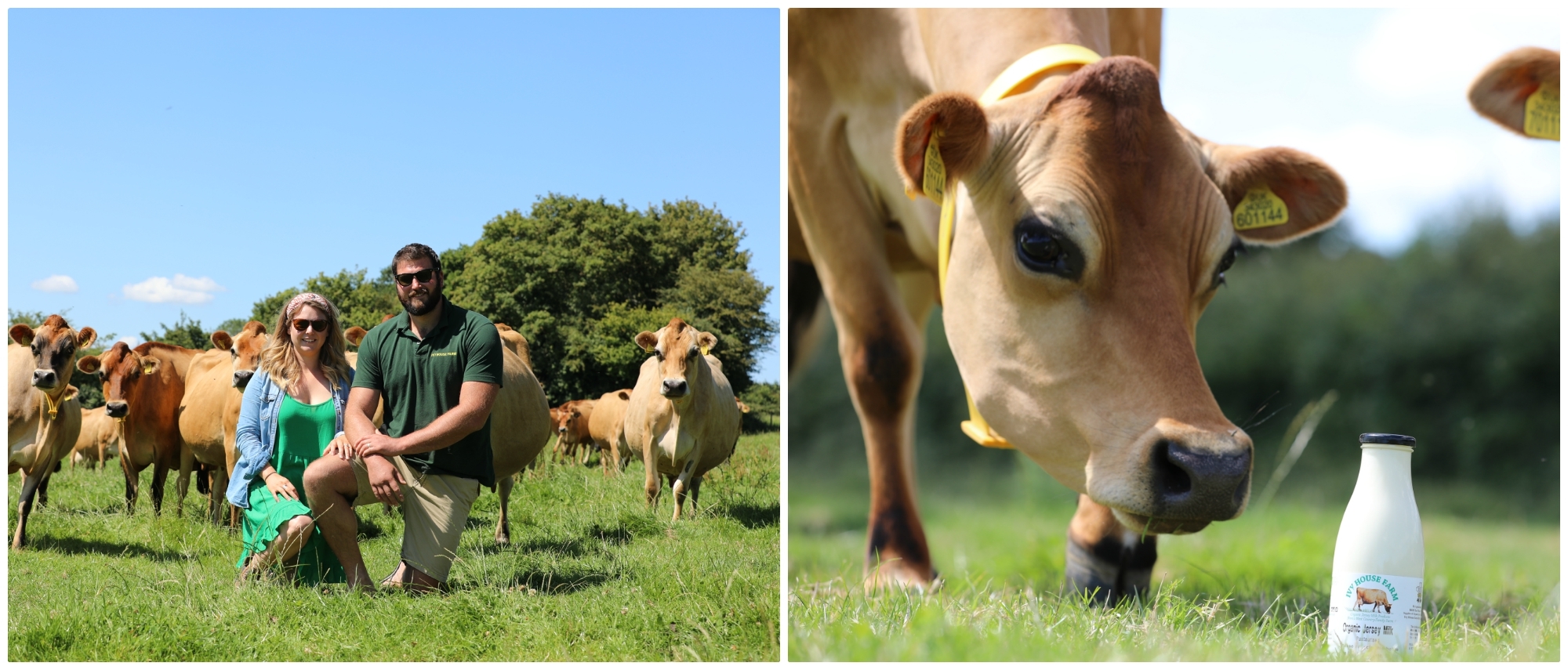 FARM FACTS
Total cows – 120 Jersey's
Supplying products to: Local Farm Shops, Deli's, Coffee Shops and London Department Stores.
Average yield / cow - 5865 litres
Calving pattern - All year-round
Average conception rate (SexedULTRA 4M on cows and Beef) 40%
Favourite sire: Ribblesdale Beaumont

The Creamery
The cows are milked twice a day and as soon as the milking parlour starts up, so does the creamery.
Once the milk has left the cow it is filtered and sent over to the cream room where it is separated into clotted, double, single, whipping or pouring cream, according to customers' requirements, as everything is made to order. Once the separation process is complete, it is pasteurised, potted up, batched up and on the lorry and delivered within 24 hours. Any cream that has not been potted up is churned into butter. All the butter at Ivy House Dairy is hand patted and hand wrapped.

Breeding and Genetics
Ivy House began working with Cogent back in 2012 – and within the last 18 months have moved onto the Cogent Precision Match mating programme. Linear assessing the cows allows a second pair of eyes to point out those cows with desirable traits and those which we may not want to continue breeding from.
Sexed semen was introduced on the farm around 8 years, and over the years Darren has used products from a variety of different companies, but has more recently switched to using 100% Cogent Sexed ULTRA 4M. With a push to increase herd size, Ivy House are currently serving all animals to sexed semen, with a handful (those with underlying health problems, issues during previous calving's or those who have been served multiple times) served to British Blue beef semen.
"I liked the fact that you have a very high chance of having a heifer calf, with little to no market for jersey bull calves, conventional semen is no longer an option for us. I have seen a huge uplift in conception rates in comparison to products by other companies I have used. I can't remember the last time we had a bull calf born! Sexed semen allows us to plan ahead and quantify replacement rates, and therefore map out where we will fit herd size and production wise for the following years" says Darren.
When it comes to selecting a sire, Darren considers good legs and feet, high milk, and excellent fat %. Fat is an essential trait as this is needed to support the creamery. "We've recently just finished using a bull called Got Maid. We used him to help improve milk production within our current herd genetics, whilst complimenting this selection by using high fat Jersey bull, Thurlstone Banging" explains Darren. " I also take overall Type into consideration, and with the mating program being in place this allows us to breed for uniformity within the herd, and to ensure each individual cow gets bred to the best sire match" he adds.
Darren uses two sires for 6-12 months and will then swap to an alternative two sires. This enables him to breed for a more consistent and uniform type of Jersey cow in the long run whilst creating a more even genetic base to breed from next time.

Future Plans
Once herd size has reached full capacity, Darren hopes to plan a more even sexed and beef strategy. This will mean a select percentage of cows straight to beef and a select percentage to sexed semen, which he hopes to achieve by utilising the Cogent Precision MAP tool to drive genetic gain and to intensify selection.
He would also like to introduce genomic testing in the coming years, to pinpoint and tighten his breeding strategy even further, allowing him to breed from those with higher desirable traits such as milk, fat and type traits. Those with less desirable traits could therefore be bred straight to beef. This will then allow for higher reliability with genetic gain based on the heifer crop coming through year on year.
Cogent Jersey sires used
Thurlstone Banging
Sexing Huxford
JX Sunset Canyon Got Maid
Lamaria Wilbert
Ribblesdale Beaumont
Graham's Gold-P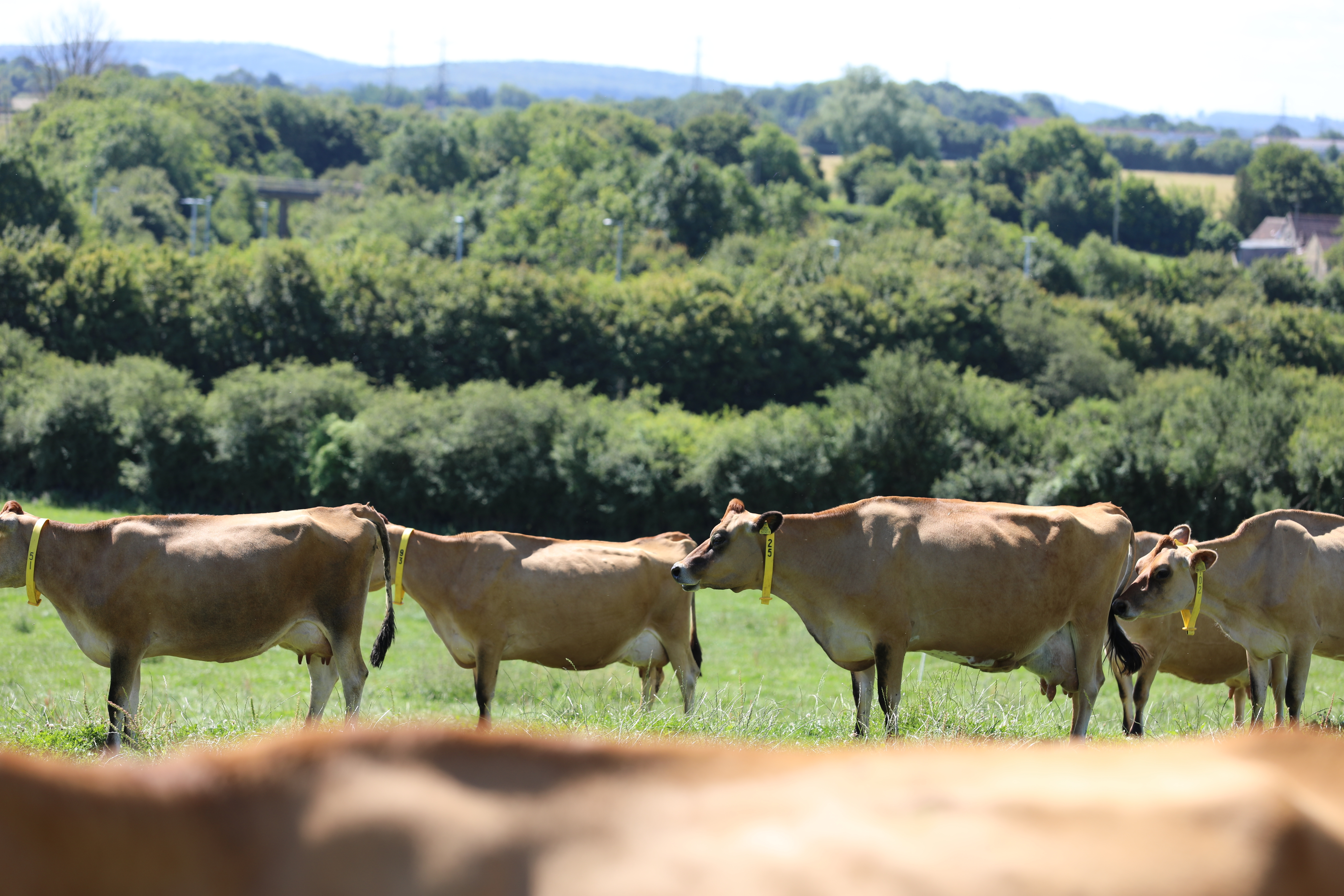 Cogent Beef sires used
Quaker Hill Dead Center
Rawburn Enigmatic
Kelowna Jimbo
Auchenlay Judge
Ivy House Products
Milk, cream, clotted cream, butter and buttermilk. Products are sold in bulk, plastic, reusable glass or stainless steel churns.
Local stockists
Local Farm Shops & Deli's - a lifeline during COVID.
Ivy House have also teamed up with Farmdrop, Abel & Cole & Eversfield. These are online retail companies allowing buyers to shop direct from small producers and have had their groceries delivered during lockdown. Ivy House have also started their own milk round.
London stockists – Neal's Yard Dairy, Fortnum and Mason,
Harrods, Selfridges & Monmouth Coffee Company.

To view our full selection of Jersey sires available visit our website - www.cogentuk.com/dairy/jersey
And for more information on Ivy House Dairy visit www.ivyhousefarmdairy.co.uk