Stuart Boothman from Cogent explains what his company is doing to address improved feed conversion efficiency of dairy animals through breeding initiatives.

Feed costs account for up half of the total variable costs on UK dairy farms. So, if we want to improve the sustainability of the dairy industry, we need to seriously address the amount of feed inputs currently required for milk production.
Innovative technologies within dairy genetics have transformed breeding programmes in recent years, which has led to significant improvements in yields, milk quality and animal health. New developments are now focused on maintaining this with less feed.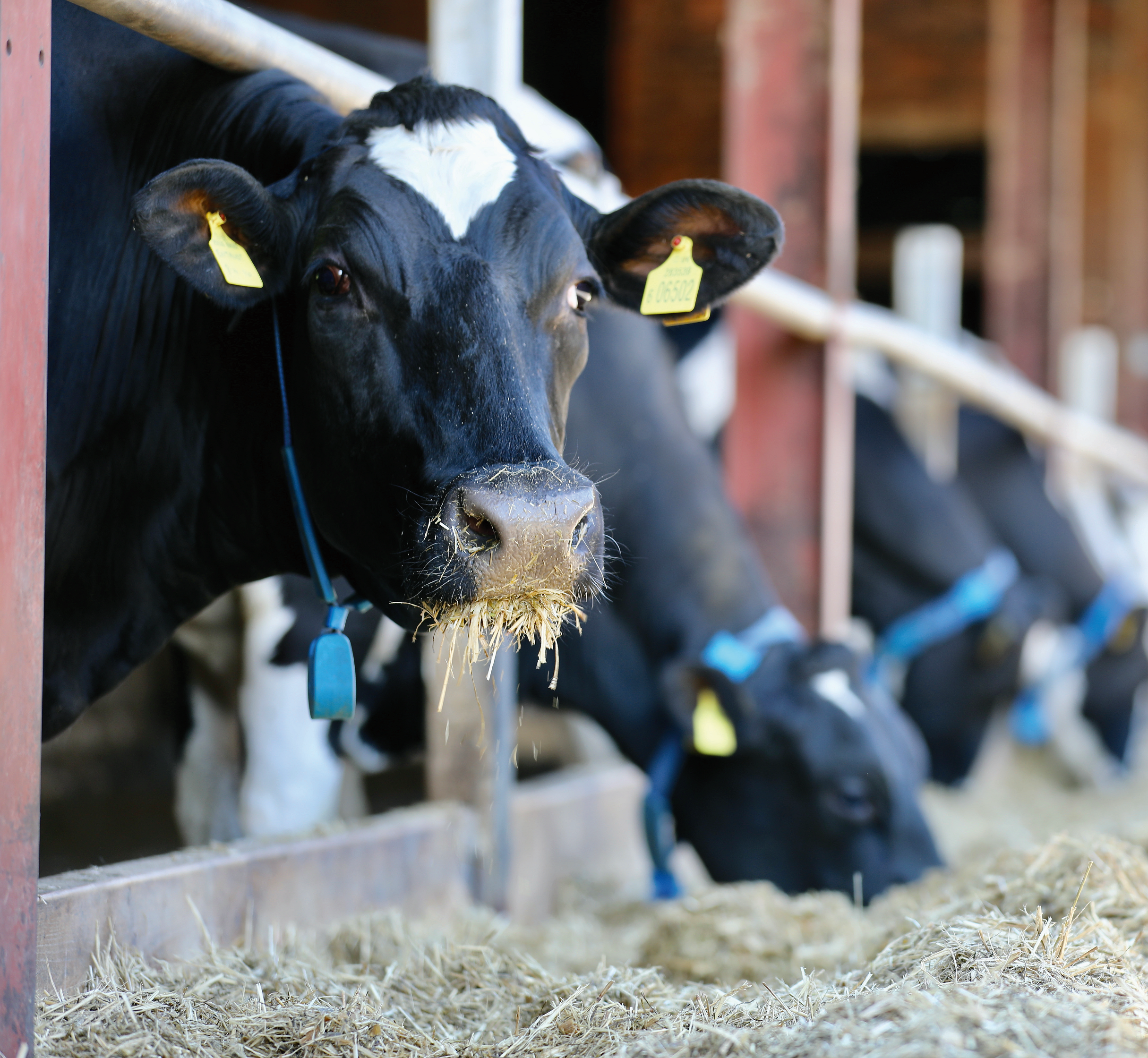 Commenting on the genetic gains made in the UK dairy herd, Stuart Boothman, Cogent UK's managing director, says: "Genetic improvements in the UK dairy herd have seen milk production per cow increase to an average of 8,144 litres per year in 2019—an increase of over 1,000 litres, or 15%, in just 10 years, according to AHDB Dairy figures. That is an incredible achievement for our industry, and we now require much fewer animals to produce the quantity of milk demanded from the marketplace.
"However, it is now timely to explore how we can achieve such impressive yields with less inputs. This will clearly have a financial gain for dairy businesses, and also reduce emissions. "The latest advancement in dairy breeding is the introduction of a feed efficiency index, which helps producers breed progeny with superior abilities to efficiently convert feed energy into production outputs. This offers huge potential to improve feed conversion of dairy cows and, as a result, reduce feed inputs and have a positive impact on the industry's environmental impact," he predicts.
Since 2014, Cogent's parent company— STgenetics—has evaluated feed conversion efficiency (FCE) on over 5,000 female progeny from 700 sires. To date, 140,000 females across the globe have received a genomic EcoFeed evaluation, making it the largest global feed efficiency database of a single organisation to date. It has been found that high EcoFeed heifers can consume up to 24% less fresh feed/day as fed, which equates to 4.7kg less feed as fed/day.
"The results illustrate the enormous potential of using an index such as this as a selection criterion in future breeding programmes for feed efficiency, and subsequently achieve a lower carbon foot-print and lower CO2 emissions in milk production. We shouldn't underestimate the positive implications a feed efficiency evaluation could mean for the long term in our industry," comments Mr Boothman.
Explaining the evaluation, he says: "The Ecofeed programme utilises a measure of Feed Conversion Efficiency (FCE) known as Residual Feed Intake. RFI is a measure—independent from body size and production—that quantifies the variation in feed intake beyond that needed for maintenance and performance requirements. Put simply, it can identify which animals—when looked at like for like—are more feed efficient."
Ecofeed values are presented as a Breeding Value (BV), so a female with an Ecofeed value of 110 will consume 0.90kg less feed per day (as fed) than her contemporaries. In order to determine what she is expected to transmit (PTA), divide the Breeding Value by 2.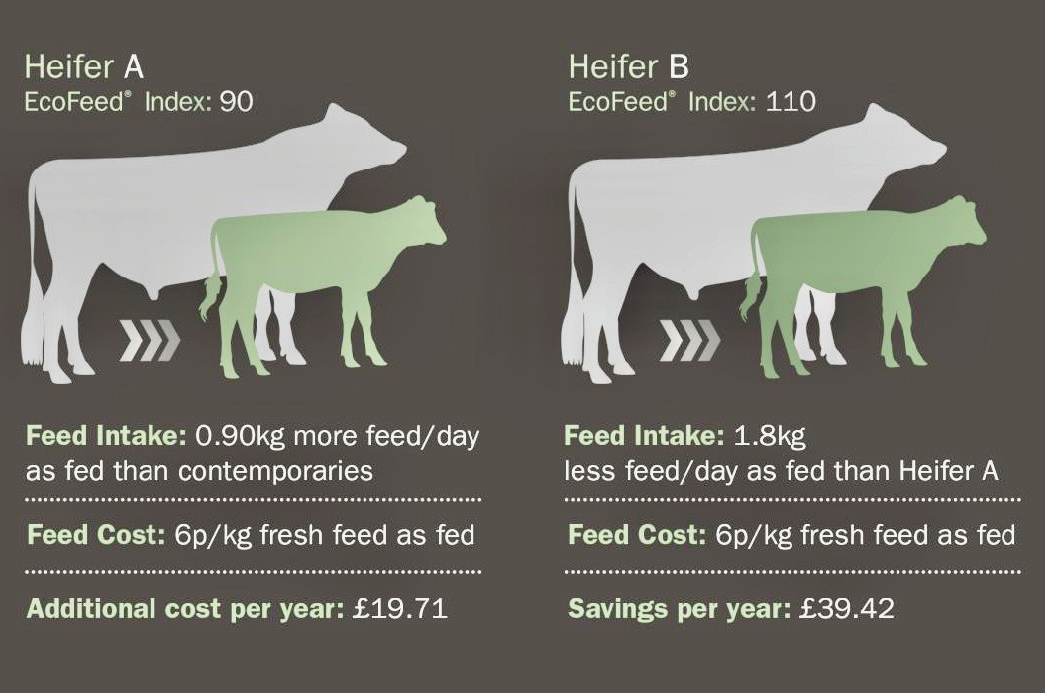 The figure above illustrates that Heifer A will consume on average 0.90kg more feed per day (as fed) than her contemporaries. This translates to £19.71/kg as fed per year. Heifer B will consume 1.8kg less feed per day (as fed) than Heifer A, resulting in annual savings of £32.85/kg as fed. For a 200-cow dairy rearing 60 heifers (30% replacement rate), this could translate into savings of £2,365.20 per year as fed fresh feed.
"This is obviously a new concept to dairy breeding. But the initial findings are very encouraging, and offer huge scope for efficiencies in the future," says Mr Boothman. "Working alongside existing breeding selection policies, I believe that we will see farmers embrace this new technology—as they have in other innovations in breeding, such as sexed semen."
"The industry must prepare for potential carbon constraints and regulations. This encompasses a wide range of management practices—from cropping, feed types and genetics, to hygiene and animal medicines. All are under review, and for justified reasons— we are all now much more educated and aware of the impact our choices make on the environment. "If we can find new ways in which to achieve efficient milk production and decrease the carbon footprint, such as simply selecting more feed efficient bulls, it will result in less manure, methane and CO2 as well as having a financial benefit for the business.


"The increasing global demand for dairy products looks set to continue, with the population estimated to rise by an additional two billion by 2050. By adopting new and better policies, we are in a strong position to market our products. However, to fully utilise the potential offered by this, we must understand what our market wants from us (see table below).


"Sustainability is absolutely key and, combined with improving efficiencies, accounts for over half of the responses from a survey of 4,000 consumers around the world. It is critical that we respect the demands of consumers and produce products in a way that they find acceptable. By doing so, we will ensure that we have a long-term demand for a wide range of dairy products throughout the world."


Which word best describes what you want a farmer to be?
Sustainable 30%
Efficient 28%
Traditional 16%
Professional 12%
Innovative 7%
Caring 5%
Small scale 2%
Other 1%
Survey by Cargill of a
representative sample of 4,000
consumers in the United States,
Mexico, China and Spain.