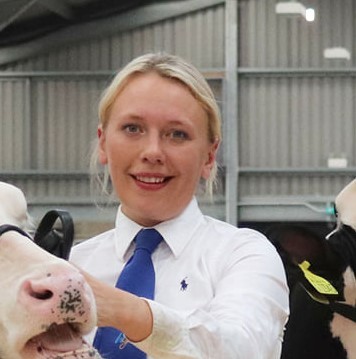 We are pleased to congratulate Cogent employee Cari Thomas on her outstanding achievement in securing pole position in this year's Holstein UK President's Medal.
Cari has been a member of the Cogent team since February 2021 and is a Genetic Consultant covering Cornwall and Devon.
She says: "I am over the moon to be chosen as this year's Holstein UK Presidents Medal winner. It is such a privilege to gain such recognition in an industry I love and work in."
Cari was nominated for the President's Medal by Cornwall Holstein Young Breeders and was required to write an essay entitled 'The time is now to address climate change. As the future of the industry, share your vision of what a sustainable dairy operation should look like'; before being shortlisted and undergoing a virtual interview where she fought off stiff competition and made it into the final three.
John Jamieson, Holstein UK President said: "The three finalists are an excellent example of the calibre of the people who have been put forward for the President's Medal this year. To be a winner or a finalist has proven on many occasions in the past to be a steppingstone to greater things and is one of the most sought-after awards within HYB."
Well done Cari! We are very proud of your amazing achievement!