Cogent's Friesian stud had a storming proof run which resulted in domination, with five of the top 10 genomic £PLI Friesian bulls.
Inch JAKE led the charge going into second place with a PLI for £349, he was followed by Inch JAY who now sits in fourth at £286 having added £12, while Inch JIGSAW places sixth with a PLI of £273. Bradash PATRIOT Red came in joint eighth position at £249 which he shares with new Friesian release Goonhilly CARLYON.
Cogent Friesians also dominate the production rankings with the top three positions going to JAY, JAKE and JIGSAW whose PTAs are +351kg, +345kg and +305kg respectively. The same three bulls also rank top three for protein kilos - JAY leads at +13.8kg.
Cogent also secured five of the top six places for Lifespan, which included JAKE (+79), Morcourt JUDD (+76), Peartree GEORGESON (+67), Morcourt JEFFERIES (+61) and PATRIOT Red (+61).
In addition to this, Cogent is home to three of the top five Legs and Feet bulls (JUDD, PATRIOT and JAY) and three of the top five Type Merit sires (PATRIOT Red, JUDD and JIGSAW).
It was a successful day for Bradash CONTENDER who added £44 PLI, 2.5kg Fat and 1.5kg Protein. Inch BRILLIANT also added £11 to his PLI
Goonhilly CARLYON joins the stud this proof run, going straight into the £PLI rankings in ninth place. CARLYON is by Catlane Capitol and out of a Piet Adema 186 dam which brings a unique pedigree to the Friesian breed, offering outcross genetics to those who require diversity. As well as profitability CARLYON provides notable fertility with a PTA of +2.2.
Jersey
Exciting new release Mr Chrome LASPADA (Chrome x Citation EX90 x Karbala EX92) went straight into the Jersey rankings at number one for Type Merit at +2.2. He also sits at number seven with a PLI of £396 making him the only bull in the top 10 for £PLI over 2 points for TM. LASPADA combines this with +2.1 for Mammary composite, leading the rankings, and +507kg Milk.
LASPADA harks from an outstanding American cow family, his maternal great granddam Goldust Legion Leanna is classified EX94, his maternal grandam Goldust Karbala Laina is EX92 and his dam River Valley Citation Lovely is EX90.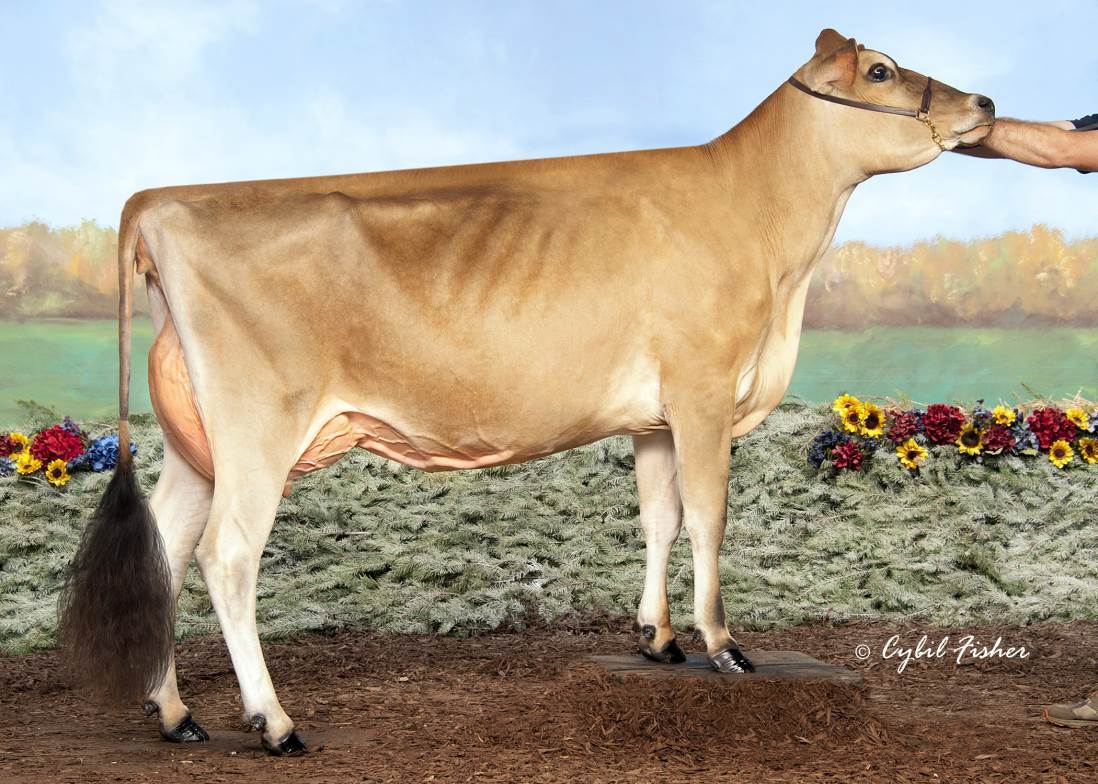 Tog CASSELTON 39774 (VJ Gislev x Cheddar x Dan N400) is the second new release for the Jerseys, and he comes with +462kg Milk, +0.8 Fertility Index and -13 SCC.
Overall, the Cogent Jersey stud is home to three of the top 10 £PLI sires – LASPADA, Sexing Chrome ZODI and Thurlstone BANGING. BANGING also became the number one Jersey bull for Fat kilos at +30.1 and added £6 to his £PLI. When it comes to conformation, we have three of the top five Legs and Feet bulls (LASPADA, ZODI, Avonlea Chips CANADIAN CLUB), 4 of the top five Mammary bulls (LASPADA, Verjatin LEVINE, Rivermead Casino ADDICTION, CANADIAN CLUB) and three of the top five bulls for Type Merit (LASPADA, ADDICTION, CANADIAN CLUB). ADDICTION also added £20 to his PLI taking him up to £223.
Ayrshire
New release Canadian Ayrshire bull Pie X LUCKY enters the stud offering excellent production credentials with a PTA for Milk of 362kg and 21.2kg combined fat and protein. LUCKY is the first Pie X Yellow son to enter the UK and offers an exciting opportunity. He also provides +0.8 for Fertility Index and +1.1 Udder Support.
Also within the Ayrshire breed, Visserdale SOLUTION added £3 to his PLI taking him to £218 along with 30kg Milk (+375kg) and 0.8 Fertility Index.