Last month, Boomer Birch (Beef Programme Manager) and Jessica Simms (Beef on Dairy Specialist) were fortunate enough to have the opportunity to spend 10 days in Brazil, visiting Araucaria Genetica Bovina, a company who we supply with Aberdeen Angus sires.
Agriculture is an essential industry in Brazil, as this county has immense resources available to do it, and beef farming is one of this country's key sectors having over 210,000,000 bovine animals. 80% of these are a Bos Indicus breed known as Nelore which was originally developed in India and used heavily in Brazil due to its hardiness, tolerance of heat, insects and overall efficiency as a beef animal. Furthermore, only 12% of the herds in Brazil are using AI which is rapidly increasing and therefore provides us with a great opportunity to market our sires over there.
The majority of farms the team visited ran large commercially based Nelore herds which incorporate Angus sires into their breeding programmes.
The Brazilian beef market gets paid on carcase yield, carcase weight and carcase quality. The Nelore carries an outer fat covering of 4mm, so the industry is constantly looking for ways to improve meat quality by using Angus sires. This is because they add intermuscular fat and carcase yield. For meat to be certified as Angus beef, the animal must be 50% Angus genetics, polled, and to have a black coat-colour. This certification allows the breeders to receive a 5% premium on the total carcase value. Additionally, the overall carcase must carry a minimum of 3mm of fat to avoid heavy deductions. When Angus is crossed with the Nelore cow, we noted three main benefits:
Finishes well off-grass, making good use of the resources available
Produces a carcase with exceptional marbling
Farmers receive a premium
The trip began with two days spent in the city of Londrina at Araucaria's sales conference. They were asked to give a presentation on Angus Genetics and the UK Beef System. Boomer and Jess were lucky enough to have a translator for the conference which enabled them to remain a part of it for the duration, meaning we listened to talks from members of the sales team, government bodies and pharmaceutical companies.

With the conference drawn to a close, they ventured on the first farm visit just an hour out of the city. The unit is a 1000 cow herd, based across 2000 hectares, of which 600 hectares is dedicated to cattle grazing and the remainder is for growing sugar cane and soya bean.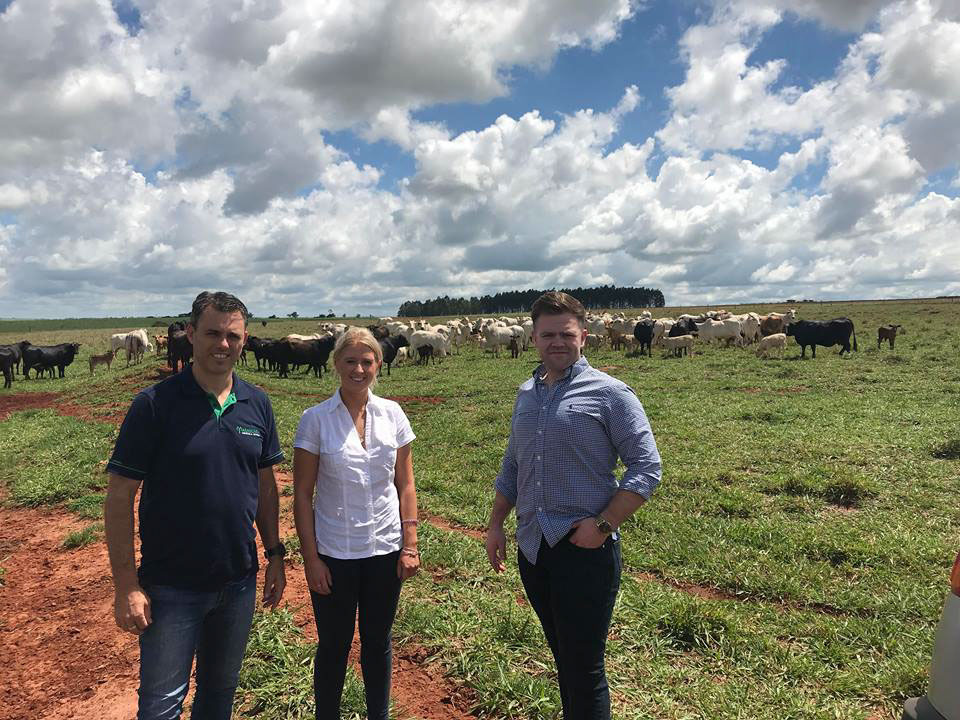 Almeria Farm

Following this, they travelled to Central-Western Brazil to an area called Mato Grosso de Sol, where they spent the remainder of the trip. Almeria was the first farm they visited in this area, and it is home to 1000 cows, across 3100 hectares. Similarly, to the previous farm 70% of the cattle are Nelore and 30% are F1s. Here they watched a member of the sales team, who is also qualified vet inseminate 94 cows in just 1 hour 10 minutes, using fixed time AI. They watched this to gain an understanding of process and how critical it is for the semen to be of good quality.

Third Farm

The pair then visited a slightly smaller farm who manages 450 cows across 1100 hectares. Here they saw the first crop of Romany 1 Lawbreaker calves off Nelore cows. The farm manager explains "the calves were all easily born and have great temperaments making them very easy to handle, which is why we like them so much". Good calving ease is essential in Brazil because the Nelore cow is left to calve herself.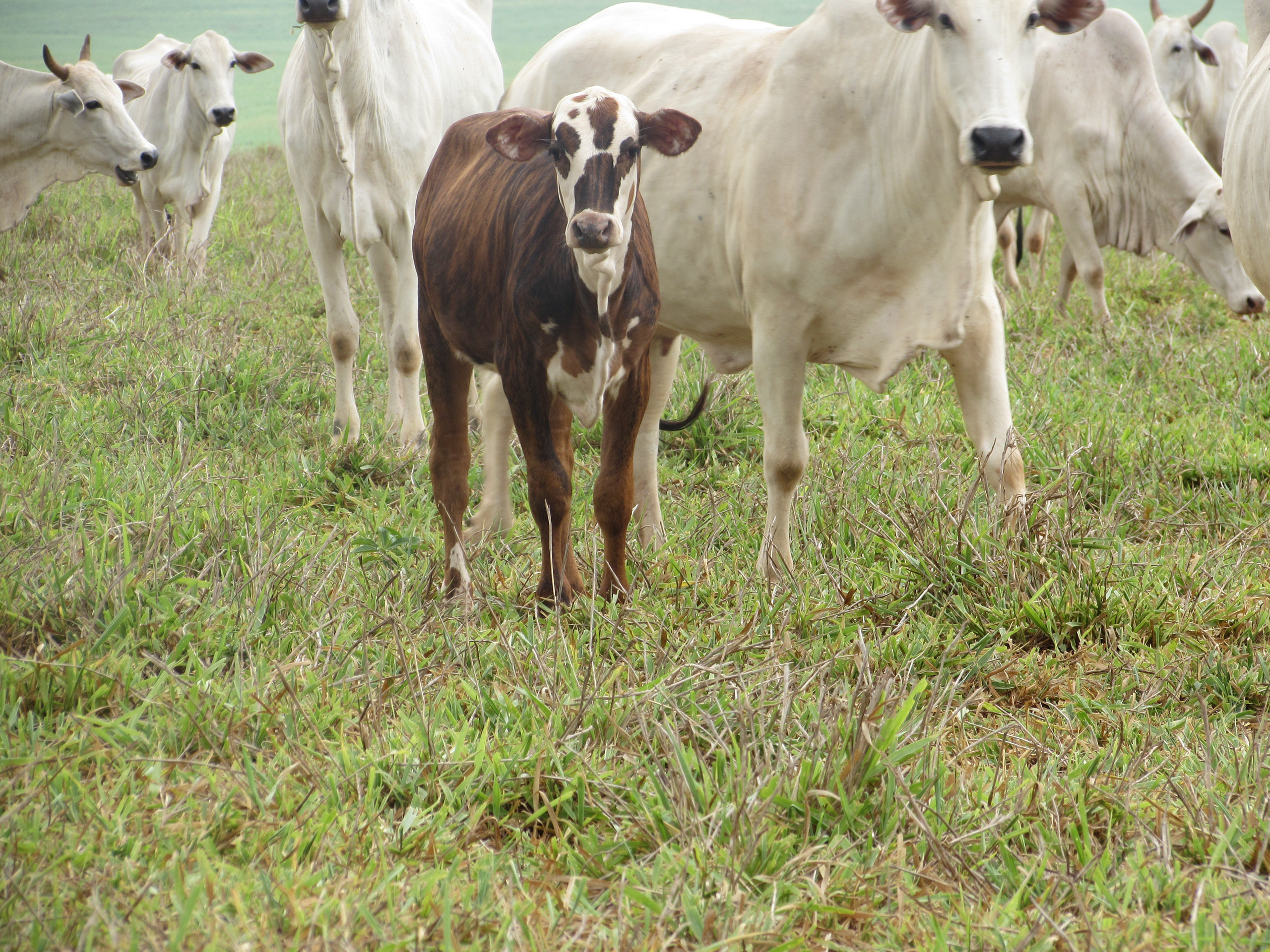 Jatoba Farm
One of our key highlights of their trip was visiting an 18,000 cow Nelore herd which is situated across 12,000 hectares. Most of the farm is run as a commercial cattle enterprise, with 10,000 straws of Angus semen being used across the Nelore cows each year. All the Angus calves born here are reared and finished extensively off grass before going to slaughter between 24-28 months of age.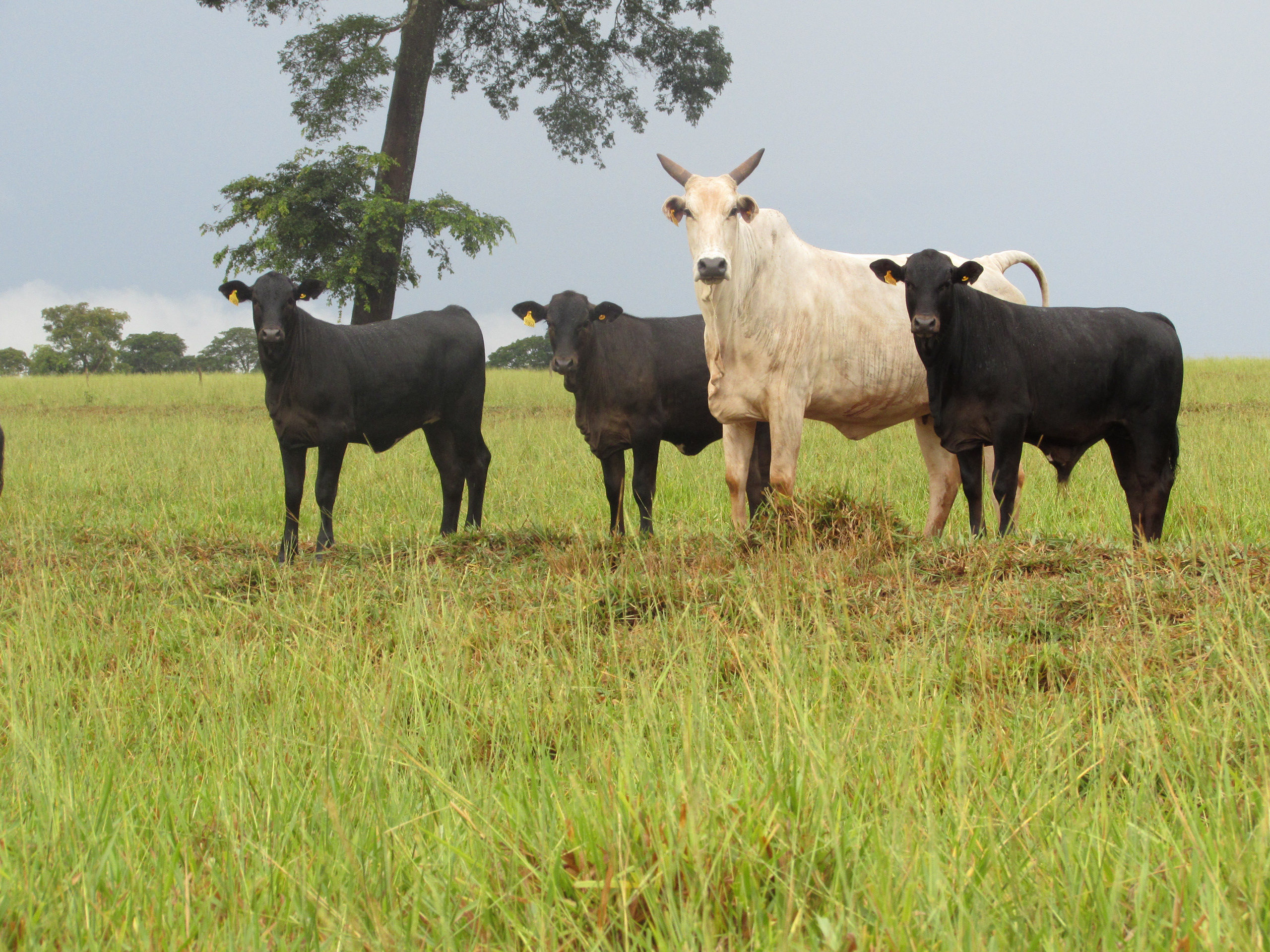 Additionally, to the commercial enterprise, the farm is also home to over 600 pedigree Nelore cattle which are all housed in a state-of-the-art facility, with grazing paddocks situated on the back of every pen. Here they got to meet 'Julie' the 8-year-old pedigree Nelore cow who is the 4th time champion of Brazil. They also got to see her cloned progeny and how they were selected for the show ring. Furthermore, the elite females in the herd are selected for IVF, whilst 350 bulls from the programme are sold each year at the on-farm sale.


Saint Peters Farm

Saint Peters is an 800 cow Nelore herd run across 200 hectares. Here, 80% of the Nelore cows are inseminated with Angus sires and 20% with a Nelore bull, with the aim of producing replacement females for the herd. At the farm, they saw Picador bull calves which were being sold at weaning and Picador heifers which were being taken through to finishing. The reason for this is because they are preferred market for females as they generally achieve a more consistent carcase with greater fat coverage.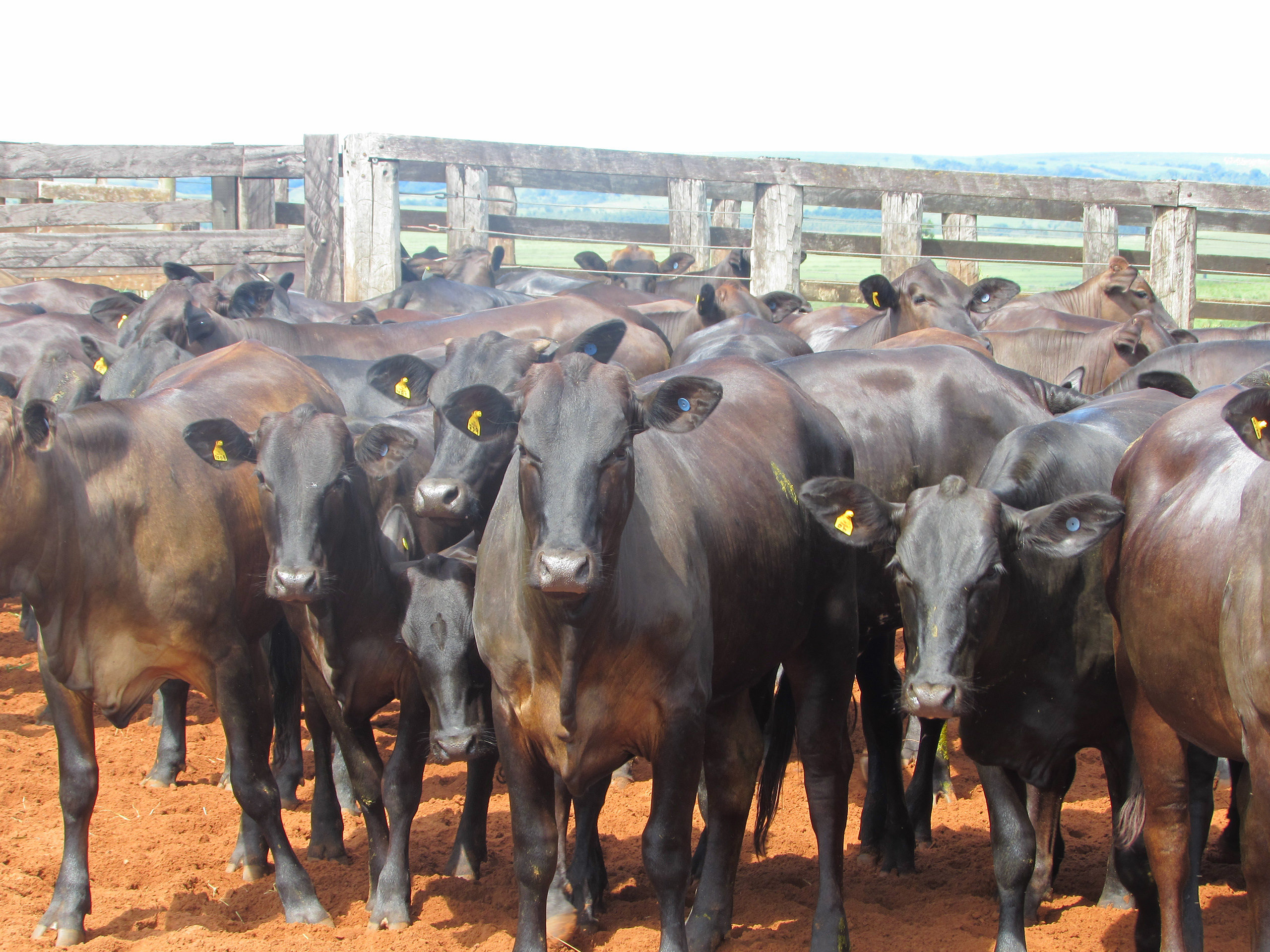 Hafer Feedlot

Next, they visited a 2000-head bull-beef feedlot, that is managed on intensive based system. The cattle are slaughtered between 18-20 months and put on a high concentrate diet 4 weeks beforehand, to ensure the animal has laid down enough fat. Unfortunately, they visited the unit at the wrong time of year to see prime Angus cattle. These would have been slaughtered earlier in the season, so they were only able to see old stock bulls and lower end Nelore bulls. However, the visit was very beneficial to see how the system operates.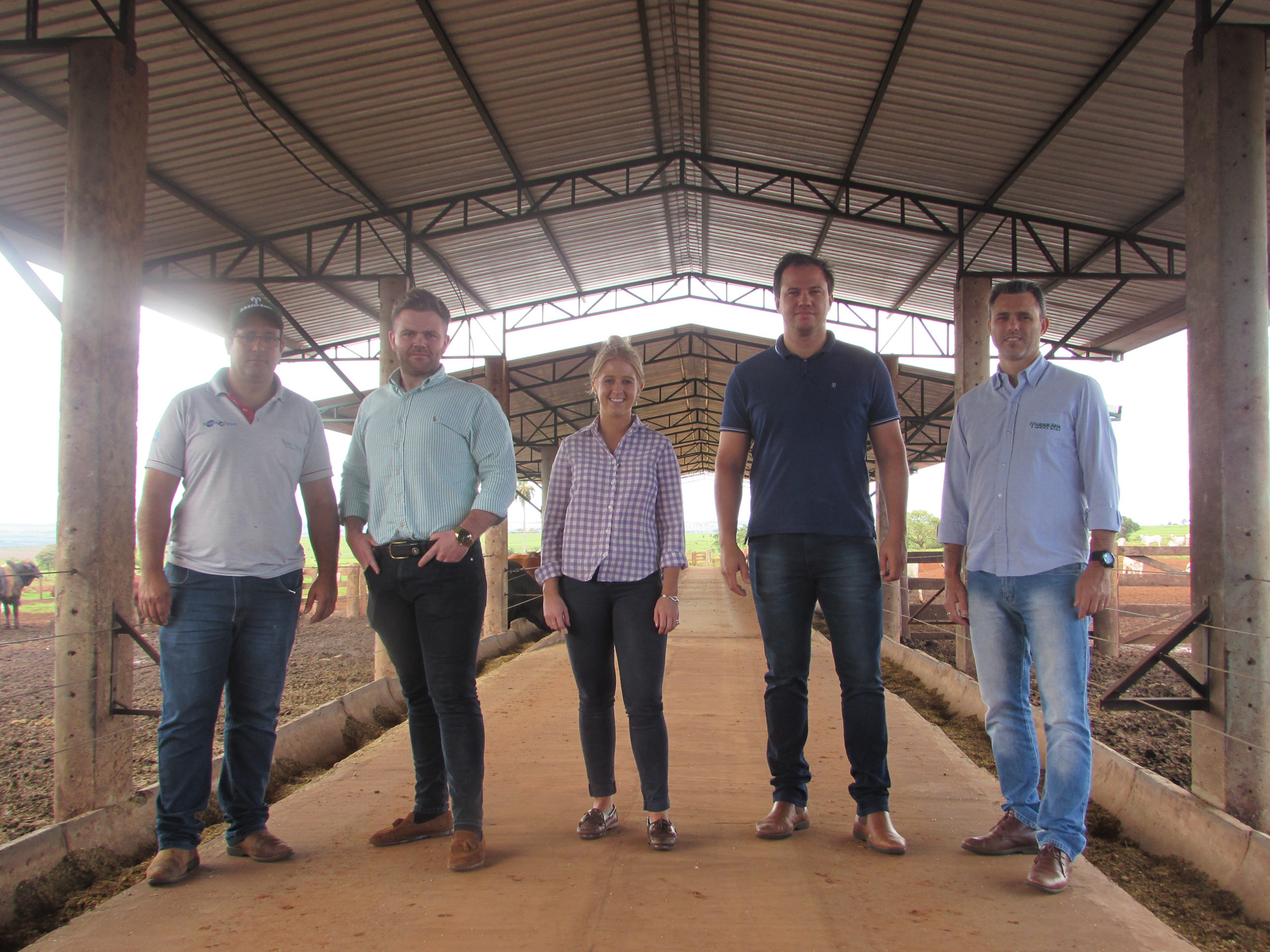 Piray Farm

Piray Farm is home to 1800 cows run over 3000 acres, of which 80% are Nelore and 20% are F1's. The Nelore heifers are inseminated with a Nelore bull for their first service and after that are inseminated with Angus, these sires include Rawburn Enigmatic, Rawburn Ettrick and Blackhaugh Titus. They were fortunate enough to see some young Titus calves, which appeared to be crossing very well with the Nelore genetics. The F1's are crossed with either Brahman, Brangus or Charolais. All the calves are supplemented with creep feed to give them an extra boost during the rearing phase.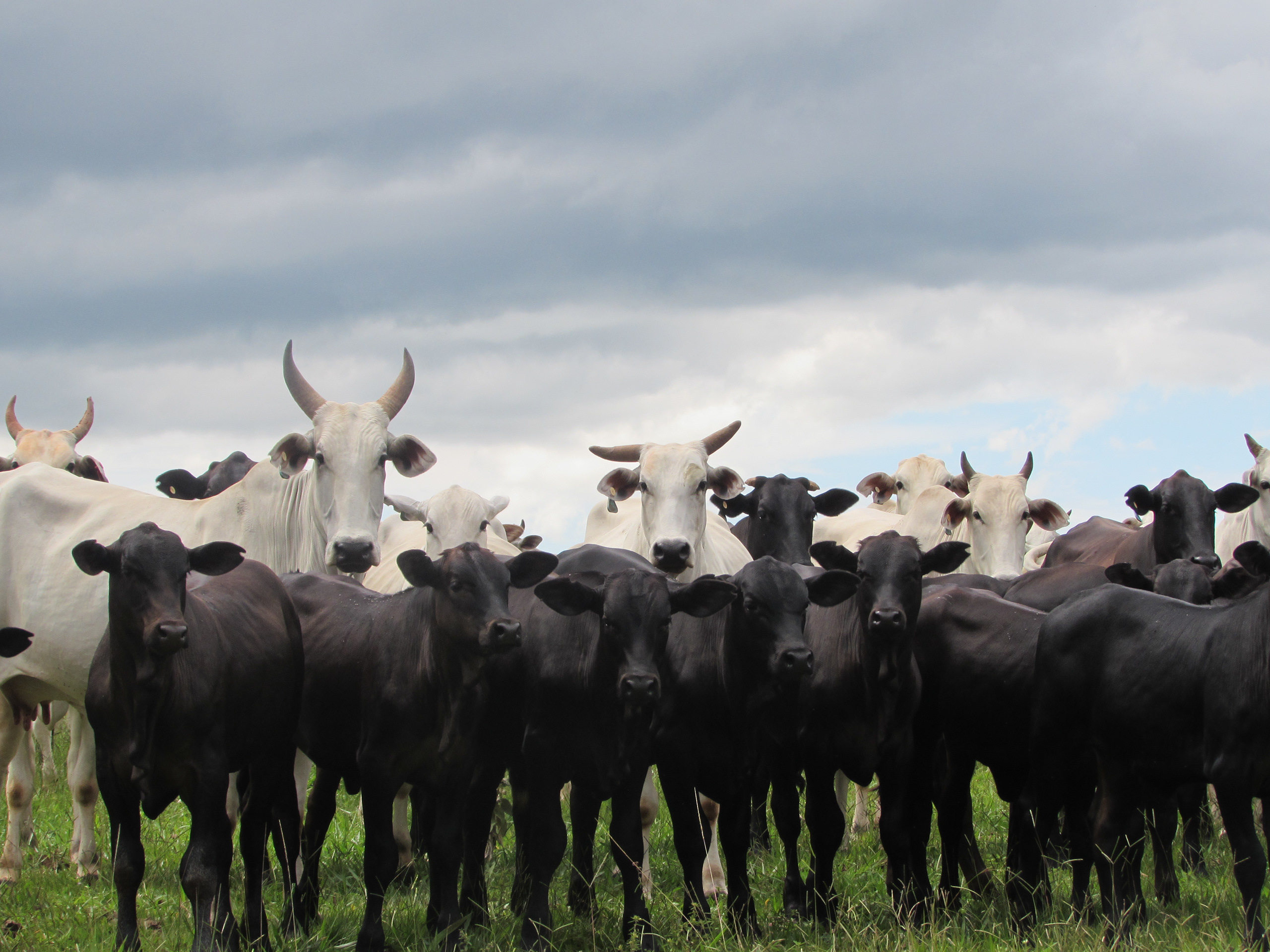 It was early days for the Titus progeny, but the fist calves born in Brazil were very impressive showing similar characteristics to those progenies of Enigmatic. The progeny were long, clean and showed signs of good growth from an early age. The muscle development and fat covering gave the impression that these calves would suit either grass-based or intensive-based systems.

Enigmatic is producing outstanding calves with good conformation and muscle development. These progenies would be suited to both intensive and extensive systems as their moderate frame would allow them to develop flesh from grass but also achieve outstanding yields in the feedlot. The female progeny will also make exceptional F1 cross cows.


Following on, they had a quick visit to see some Quaker Hill Dead Center calves which were born in August 2018. Here, the farm runs only Nelore cows and inseminates once with Angus sires and then runs a Nelore bull with them to sweep up. The farm had been using Picador historically but have switched onto Dead Center for the last two years due to this great conformation and fat coverage that is achieved through grazing alone.


They noted the progeny to be very easy fleshed with moderate frame, which will finish at a younger age than most sires off grass. Dead Center is a key sire for Brazil as he is well suited to extensive units, finishing at around 18-22 months of age. In the UK, bulls and steers can be slaughtered between 13-15 months and consistently achieve an R4L carcase grade.

Sao Luiz Fazenda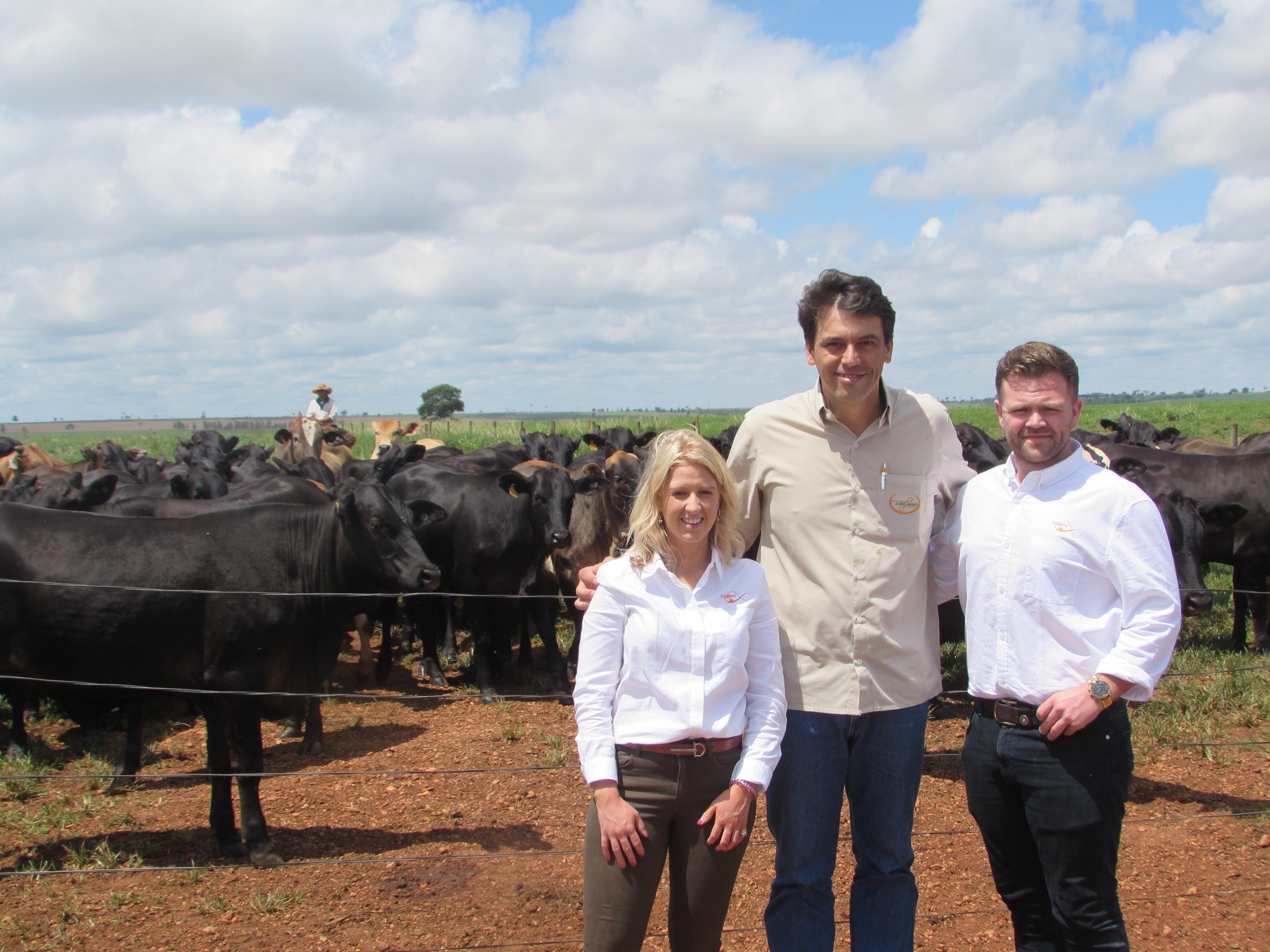 Finally, the last farm they visited was Sao Luiz, a 11500 hectares farm. Five years ago they were a 100% Nelore herd and have slowly started introducing F1's into their breeding programme, which now make up 20% of the herd. These will be inseminated with Charolais sires. This was also the only farm we visited that was data recording, whereby the are genomic testing all the Nelore females and the elite ones are inseminated with a pedigree Nelore bull and the less genetic desirable but still highly fertile females are inseminated with Angus.

The progeny are all reared extensively on grass for the majority of their life and are transferred to an on-sight feedlot to finish. The feedlot houses 5,000 animals in batches of 120 which are all grouped according to weight. The target weight for females are 300kg dead weight and 350kg dead weight for males, to achieve this, they are fed four times per day.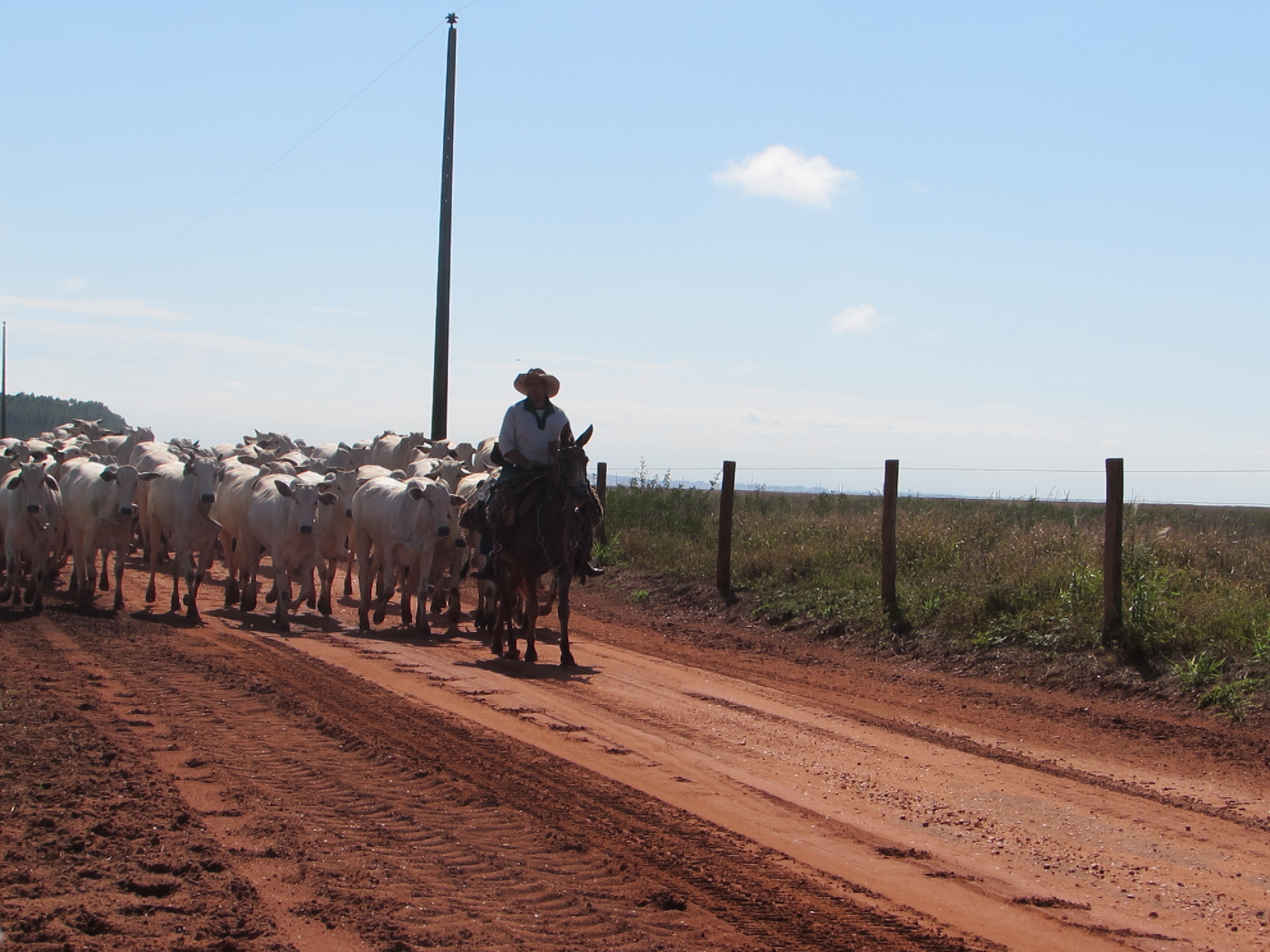 After many in-depth farm visits, they noted many similarities between what the Angus sires are achieving in the UK and in Brazil. The stamp the sires are putting on their calves in Brazil is similar to what they are doing off Holstein cows in the UK.
Finally, the visit was very beneficial to gain and insight into the requirements of the Brazilian beef industry and the sires they require to meet these. Going forward, it is hoped Cogent can continue to supply these high quality sires for these markets.