With herd expansion underway at Lower Alston Farm, Lancashire, adopting a sexed and beef strategy is proving successful for building quality replacements.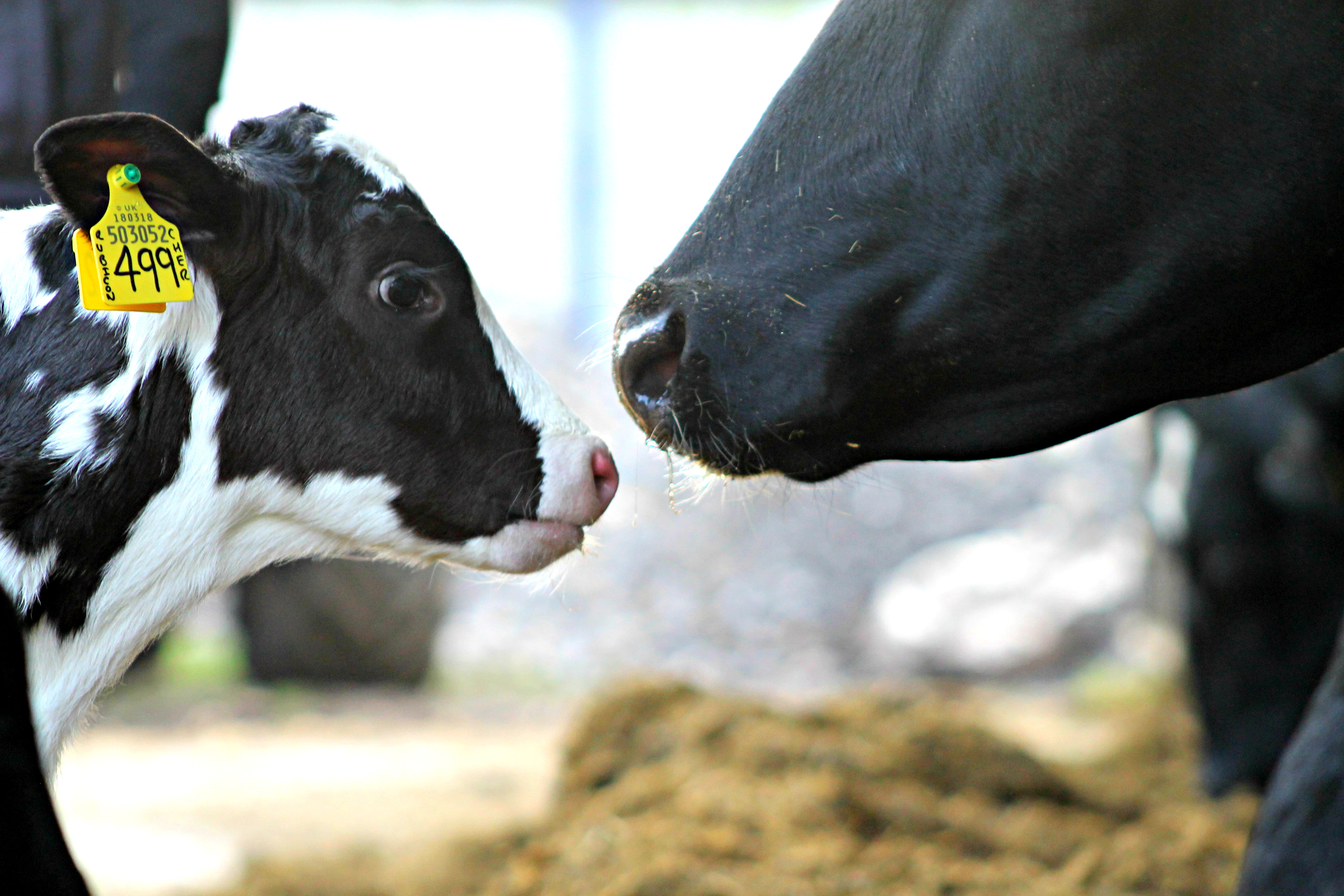 A calf sired by EDG Rubicon
Since taking the opportunity to purchase a neighbouring holding in 2017, David Talbot has been working to build herd numbers alongside an initial consignment of bought-in replacements.
After hearing the successes other farmers have experienced using sexed semen, Mr Talbot decided to take the plunge and began implementing his own sexed and beef breeding strategy at Lower Alston Farm, Lancashire, last year.
With a focus on driving numbers, as well as producing high quality replacements, Mr Talbot took the decision to serve all cows and heifers to sexed semen.
Artificial insemination is used for sexed and beef straws and most cows will get two chances to be served with sexed. Any which do not hold after this are served to beef breeds, although a small number of cows which have had health or fertility problems in the past will go straight to beef.
Mr Talbot says: "The theory behind this policy is to breed more fertile cows in future. We had heard success stories from others who had gone down the sexed semen route and were hopeful it could help us achieve what we wanted to in breeding good quality home-bred replacements after purchasing the new holding last year, so were keen to give it a try."
During this initial 12 months of using the programme, heifers have achieved conception rates of 60% to first service at an average of 1.6 straws per pregnancy and average age at first calving of 24 months.
Cows are averaging in the region of 35-40% at an average of 2.4 straws per pregnancy.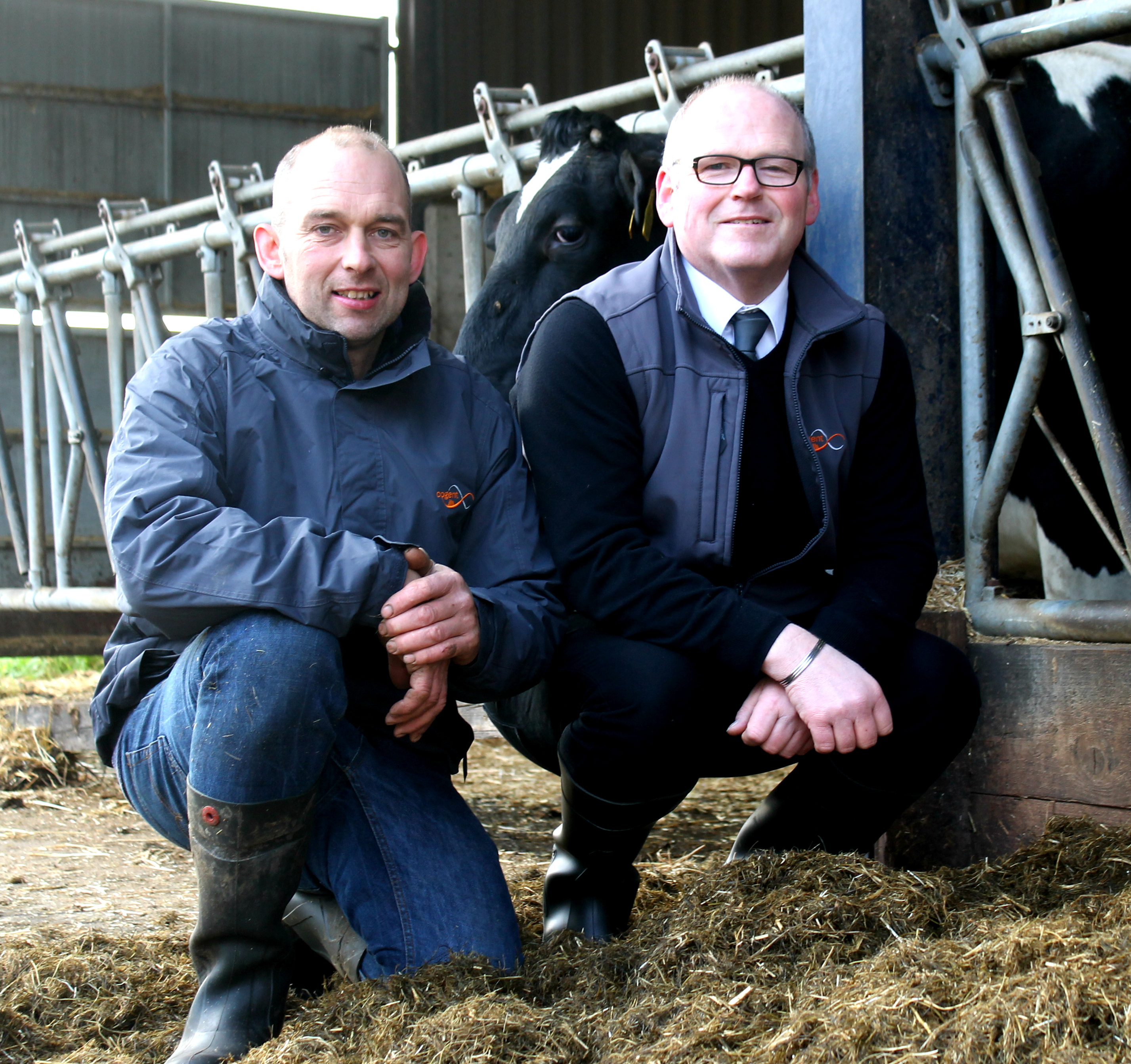 David Talbot (left) with Cogent Breeding Advisor Alan Robson.

Staff

Alongside the technology sexed semen offers, Mr Talbot credits his reliant and committed staff with attention to detail in preparing cows for service, as well as a reliable heat detection system when it comes to achieving the good conception rates he has.
He says: "Committed and hard-working staff are crucial to the success of our system. They can always be relied upon to ensure animals are well-prepared and clean before they get served, which is crucial.
"Pedometers are fitted on cows and heifers which are wired to an automated heat detection system and linked to robots, which has also helped drive accuracy. We work closely with the vet to carry out weekly checks to make sure 35cows are as well-prepared for mating and cycling as they should be."
Mr Talbot is currently using several sexed semen sires from Cogent, including Neal, Evolve P, Rubicon, Chili and Achieve, with the aim of breeding traits to suit the robot milking system.
Good teat placement, legs and feet are, therefore, a priority for the herd in order to achieve this.

Now one year in, the sexed and beef policy has exceeded expectations at Lower Alston and Mr Talbot has found results to be 'just as good as conventional', so much so the farm is now running a surplus of heifer replacements.

These will be sold as in-calf heifer replacements later next year.

Mr Talbot says he plans to alter the strategy next year so more beef semen is used, as opposed to all sexed, to make sure the farm is not consistently carrying more youngstock than it needs, all of which are currently housed on the new holding, with the milking herd at Lower Alston.
Given the surplus of heifers the farm is currently running, Mr Talbot says he feels his sexed and beef breeding policy needs a few tweaks before he is able to calculate whether it has benefited him financially.
He says: "Sexed semen has proved itself on our system and we have found it to be just as good as conventional.
"We were expecting to take a bit of a hit with conception rates, but this has not been the case and has worked much better than we originally thought."
The pedigree Holstein herd currently stands at 350 cows, up 70-head since expansion began in 2017. The herd is housed all-year-round and milked via six robots. The sixth was added in spring 2017 in-line with growing numbers.
Heifers and cows are split, with heifers milked over two robots and cows over the remaining four. Each group is fed a TMR-based diet, plus concentrate fed via robots.
Cows are averaging 11,000 litres per cow per year at 3.65% fat and 3.2% protein, with milk sold via a Sainsbury's/Muller contract, which Mr Talbot says suits the farm's all-year-round calving system.
The number of bull calves in the system has reduced since Mr Talbot began implementing the new breeding policy, but any which are born are sold via a Buitelaar contract, which he says is reliable and has worked well for the farm's system for the last two years over which he has been using it.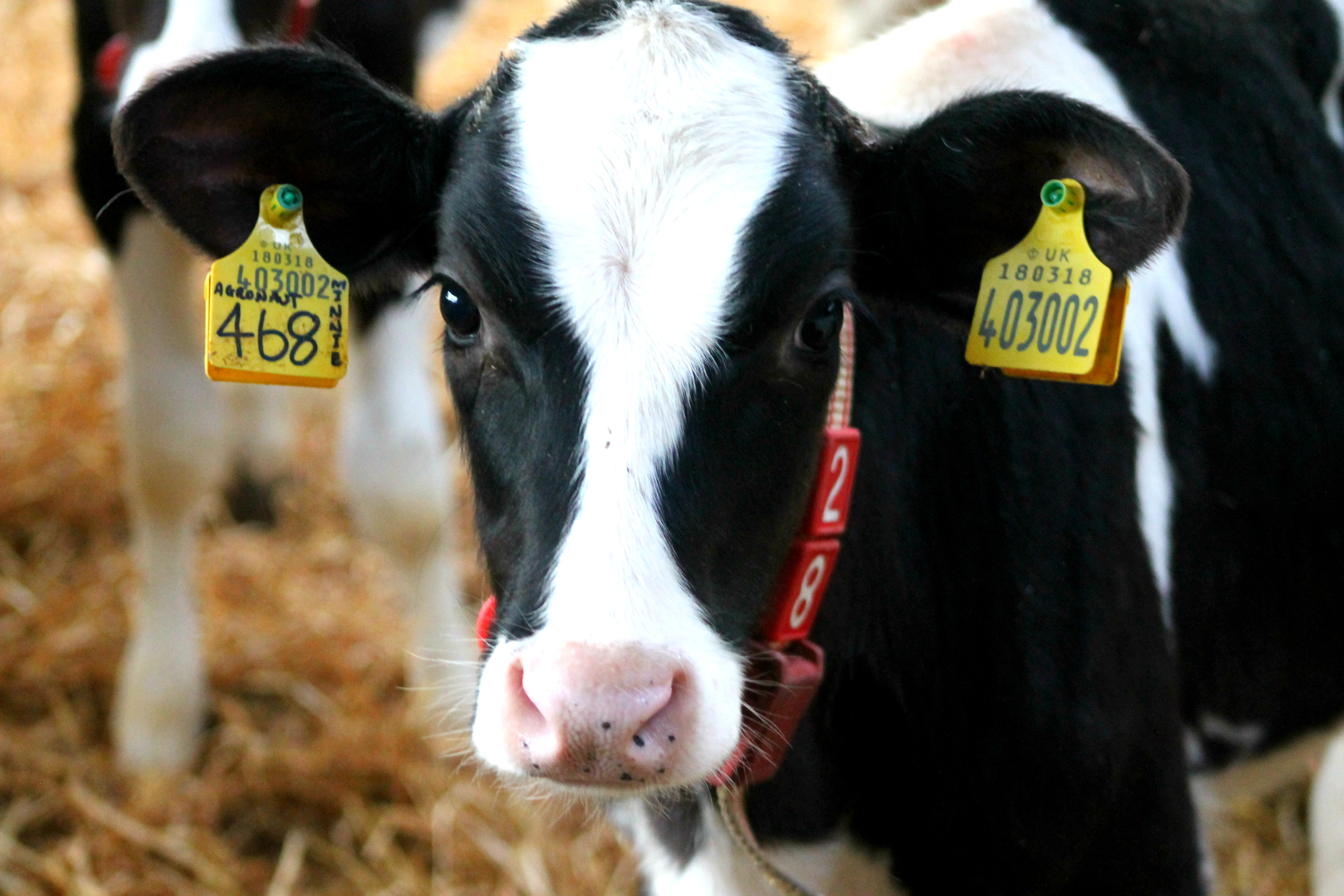 A calf sired by Mr Rubi-Agronaut
Beef calves

All beef calves are sold via Gisburn Auction Mart at eight weeks old. Given that the sexed and beef strategy has exceeded expectations in producing a surplus of replacements, Mr Talbot says a slight shift in policy is likely in future and will likely see a move towards using more beef semen.
Replacements are currently selected from the best cow families, but in future, Mr Talbot says he is considering a more individual approach in the form of genomic testing on cows and heifers and this could be a way of selecting when it comes to replacements.
This approach has the potential to improve understanding of individual animal traits, Mr Talbot says, and when used in conjunction with a successful sexed and beef breeding policy, could work towards increasing genetic merit of the whole herd.
Lower Alston Farm Facts

350-cow pedigree Holstein herd
11,000 litres/cow/year at 3.65% fat and 3.2% protein
Cows housed on an all-year-round calving system
Bought a neighbouring farm in 2017, cow numbers risen 70-head since last year via bought-in replacements, looking to move to home-bred replacements using sexed semen in future.
Herd currently milked via six robots, split into one cow group (four robots) and one heifer group (two robots)
Heifers average age at first calving of 24 months
Did you know?
Gender accuracy is consistently above 90% with SexedULTRA 4M.