Commissioning Cogent Precision with the task of reproduction management has put a 1,250-head herd at the top end of national performance.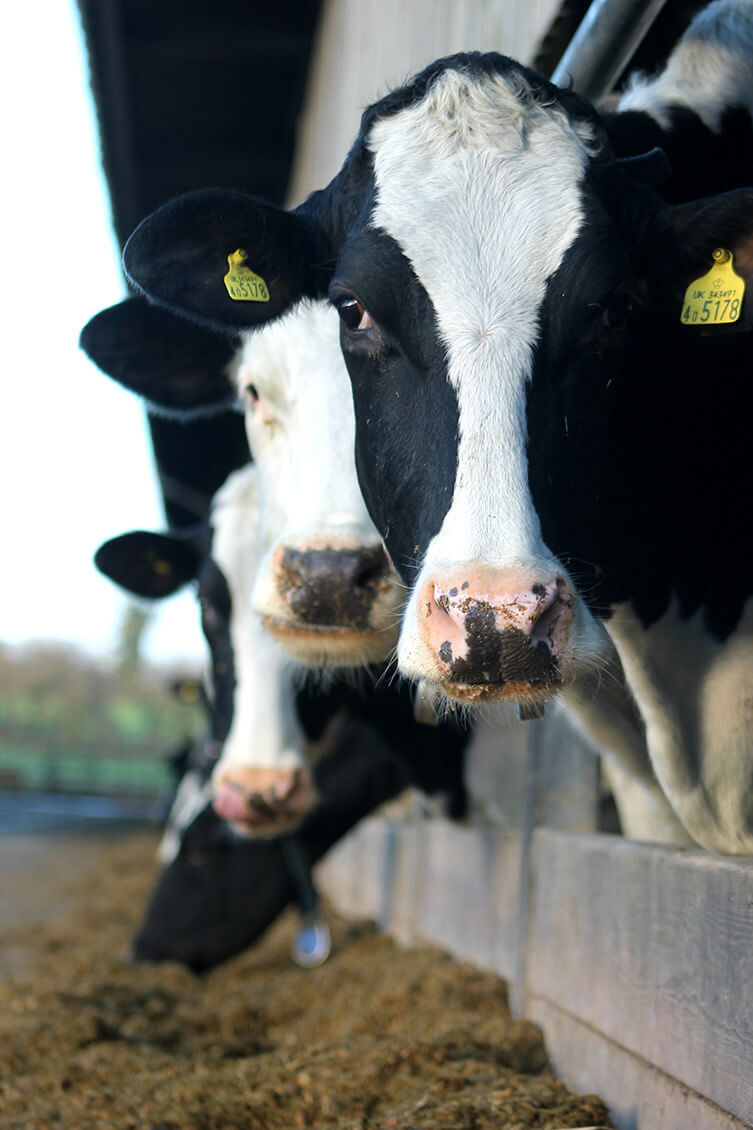 When you take over the management of a 1,250 head milking herd, there are no rule books to follow and few farms of a similar scale from which to glean advice. But Ben Yates has taken the management of one such herd in his stride, and this month celebrates 12 months in the job.
Taking over the position in July 2017, and confronted with a system based on manual data collection, how did he decide what to prioritise as he walked into the job?
"That was simple – as soon as I took on the job, I put in these guys," he says, gesturing towards Jeremy Dain from Cogent Precision, the service which takes on full responsibility for the fertility and reproduction management of a herd.
"It was a quick and easy fix and meant it was something I did not have to think about," he says.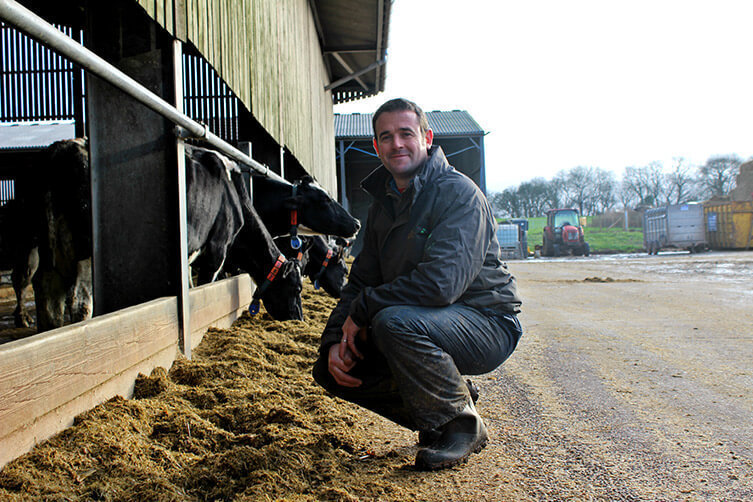 The appointment of Cogent gave Ben the chance to see the farm's bigger picture, including the oversight of its 1,650 acres (668ha), the ongoing management of cow health, comfort and nutrition and the rearing of youngstock.
Jeremy Dain takes up the story from Cogent's perspective, explaining how, as part of the Precision Repro team – initially working with his colleague, Mike Steans and later with Dan Twose – he set to work on the herd's fertility management.
"At the outset, the Y Farms vets pregnancy checked the whole herd while we got stuck in and started serving cattle as quickly as we could," he says.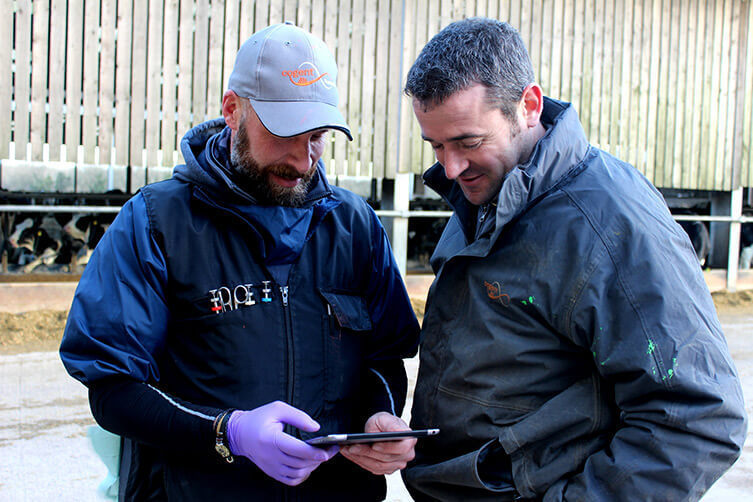 "Once we'd had plenty of PD sessions and we knew the pregnancy status of enough animals, Ben and his team started regrouping the cattle. Around 50 cows went into a fresh group, at three to 21 days in milk; they made two early lactation groups, each of around 160 head and the rest of the herd was pregnant and split into two groups.
"Within three weeks of starting, everything was in its right group," he says.
Spending two hours every day walking, chalking, observing the herd and breeding animals, the Cogent team gradually started to build a database, entering all the information they had on to Cogent's PD+ software.
[AH1]Have taken out reference to group size as it's a question I don't have to ask for clarification on and I don't suppose it really matters!
Meanwhile, decisions had to be taken about which bulls to use, and – with his strong background in breeding as well as showing and judging cattle – Ben was keen to remain fully involved.
"Just because we have a herd of 1,250 head, doesn't mean I don't want to breed good-looking cows," he says. "I want to be proud of the cows we milk and good looking cows will do the job.
"Type is there for a reason – I want chest width and robust cows, as narrow cows will blow over. But I also want functional traits, particularly feet and legs and I want to stop the decline in teat length."
Also citing Predicted Transmitting Abilities (PTAs) for kg milk and Fertility Index as top priorities, he says: "Fertility is actually number one because it comes back and bites you if you don't have it."
Whilst keeping these priorities in mind, he also opts to use Cogent Precision Match (CPM) which will help him match every cow's weaknesses with the most complementary service sires.
"Graham Higgott and Amy Hall-Brown from Cogent will come here every month and score our cows and then run them through Cogent's mating programme," says Ben.
"Avoiding inbreeding is also key for us, as it will steal milk from the herd," he says. "But through CPM we can set an inbreeding limit which the programme won't exceed."
With a portfolio of all genomic dairy sires, plus beef semen for the herd's lower end, Ben took the Cogent group by surprise when chose to switch all dairy semen to sexed.
"It was roughly when SexedUltra 4M [the female sexed product which packs double the usual number of sperm into a straw] was launched that we made the decision," he says. "We'd been getting good results from the sexed semen we'd already used and were confident 4M could only be better."
Jeremy Dain says he was 'quietly confident' when the decision was made, and all dairy inseminations were switched to SexedUltra 4M in January 2018, despite the challenge of an unseasonably cold snap late in the winter. A protocol was established which saw a voluntary waiting period of 42 days and any cow in milk at under 100 days served with sexed.
"The cows have to be in good health and condition, with no history of uterine infection and show a good, clean heat," he says. "Then they'll be served up to twice with SexedUltra 4M, providing any return to heat is within the 100 days, and after that, unless they're something special, they will be bred to beef.
"The bottom end will go straight to beef semen, such as low PLI [Profitable Lifetime Index] females or those testing positive for Johne's," he says.
Today, the fertility figures at Y Farms give the impression of a herd on peak form, with a 21-day pregnancy rate of 24 per cent (12 month rolling average), almost 10 percentage points above the UK's national average.
"We have had highs of over 30 per cent during some periods, and we are all driven to get this figure higher," says Jeremy.
"Preg-rate is absolutely key for this business," adds Ben. "It's the driver for milk and I would like to see the figure increase to 26 per cent over the next six months."
Other figures which continue to improve include the herd's calving to conception average at 103 days, a heat detection rate of 60 per cent (national average is nearer 35-40 per cent) and a conception rate of 40 per cent, compared with the national average at around 26 per cent.
Although calving index is improving all the time and now stands at under 400 days for the year-round calving herd, Ben insists: "This isn't an important measure for me as it's not only historic, but is very easy to manipulate."
The good fertility will feed through to the milk production of the herd, which sits at a 12 month rolling average of 10,100kg at 3.8% fat and 3.13% protein (3x). With performance having increased from 26 litres/day at the outset to 34 litres/day today, this rolling average is also on an upward trajectory.
But the ultimate measure of herd performance Ben says must be seen in the bottom line profits.
"There's lots we still want to do but we have to keep focussed on profits and take one step at a time," he says. "I work for the owner and this is about making money from his herd – he's a guy who enjoys his farm and is proud of his cows."
Y Farms in perspective
1,250 milking cows
3,000 milkings every day
10,100kg at 3.8% fat and 3.13% protein (3x)
64 point DeLaval rotary parlour
16 staff, including 10 milkers (five per shift)
Four hours to milk 1,080 cows
Pregnancy rate 24%; conception rate 40%
75 tonnes of feed through the wagon every day
200 calves to feed every day
4,000 straws of semen just purchased for the year
1,650 acres (668ha) growing feed for the stock
1,000 acres (405ha) grassland
500 acres (202ha) maize
150 acres (61ha) barley
To find out more about our Precision services speak to one of the team on 0800 135 7404.