Published in the John O'Groat Journal by Jean Gunn
Plans for a Thrumster dairy to bring back doorstep deliveries to the county have met with a "fantastic" response locally.
Although the lockdown restrictions have slowed the process down a little, David Campbell, of Campbell Dairies, said: "We are well on our way with it – everything is on track."
The local Jersey and Ayrshire herd currently supplies milk to Highland Fine Cheeses. However, the downturn in demand during the coronavirus crisis led to the organic dairy farmer researching other avenues.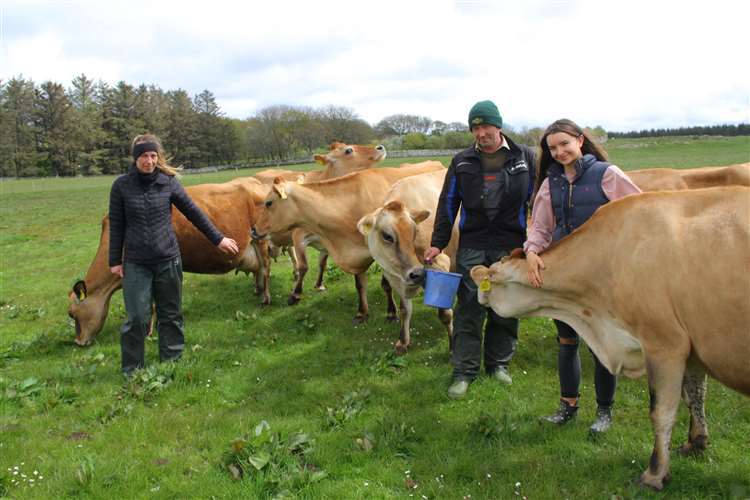 David Campbell checks some of the Jersey cattle as they come in for milking along with his daughter Faith (right) and wife Lesley. Picture: Willie Mackay
Working along with agricultural consultant Karin McGivern, Mr Campbell looked into the possibility of starting milk deliveries and the production of butter and yoghurt. An initial survey revealed that 97 per cent of respondents were interested in having milk delivered to their doors.
Ms McGivern said: "Things have gone tremendously well. We now have over 600 households interested in having milk delivered, which is almost 10 per cent of the dwellings in Caithness. But more importantly from our primary feasibility study it's 25 per cent of what we established would have been our target market.
"It is fantastic to have that level of interest before we even begin. We had surmised that approximately 50 to 60 per cent of the population would be the capacity in year five, so to have 10 per cent interested pre-launch is absolutely fantastic.
"This is before we even approach any local retailers to see if they would like to supply too. The support levels on social media far outweigh this also."
She added: "The Caithness people value local produce, and the bonus of having it delivered means that it's convenient for them. Our next steps are to finalise our approval and then contact all our interested parties to convert interest into orders and then launch.
"We don't have a date for this yet but we are working hard behind the scenes to bring this to fruition."
Mr Campbell, who runs a organic farm at Thrumster Mains, became interested in Jersey cows a few years ago while staying on Sark, part of the Channel Islands.
He and his wife Lesley have have a healthy herd of 25 Jerseys and five pedigree Ayrshire cows on their 400-acre farm, miking an average of 20 litres each per day which will increase through the summer months.
Jersey cows are famous for their high-quality rich and creamy milk which is naturally high in butterfat and protein.
Success in breeding has come by using AI with sexed female semen from cattle breeding giant Cogent, with local technician Willie Mackay carrying out the inseminations.
Top Jersey bulls such as Sunset Canyon Got Maid, Rosehill Manderville , Hiltown Oblique and Grazeland Lemonhead Devinci have given 90 per cent gender accuracy, resulting in heifer calves for breeding.
"Cogent are world leaders in producing the most advanced sex-sorted semen available with twice as many female sperm cells than any other sexed straws on the market, which is ideal in dairy herds that want replacements," Mr Mackay explained.
Delighted with the results of the first sexed semen breeding programme, Mr Campbell said: "We have had 12 calves this year – out of that 12 there has been one bull calf."
Campbell Dairies is trying to introduce genes from American bulls, known for their higher milk yield, to its mainly Danish-bred cows which have better butter fats and protein levels.