Herds which precisely tailor their breeding to suit their milk contract can achieve extra pence per litre in profit.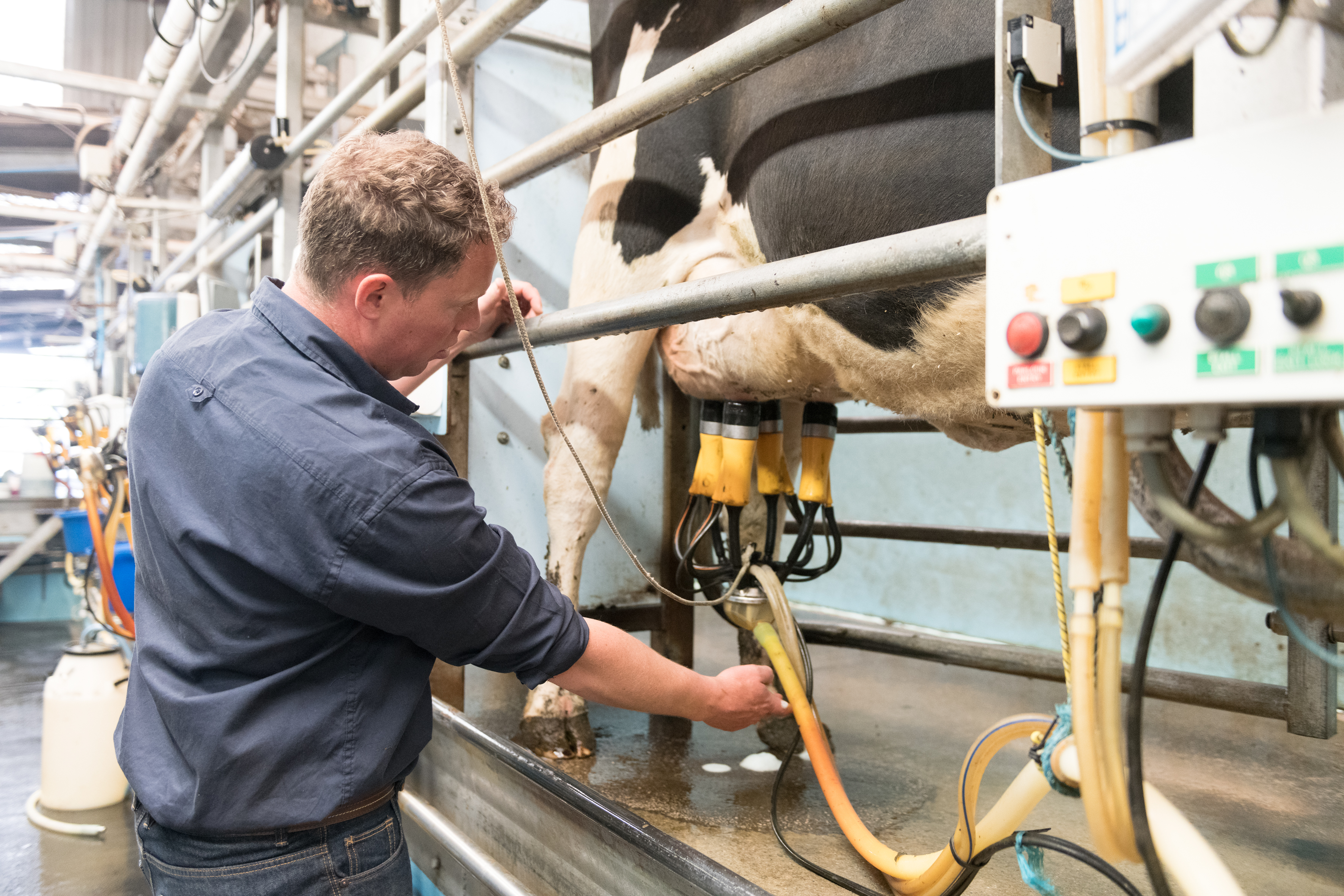 Profitable Lifetime Index has served the dairy industry well for the past 20 years and continues to do so today. Producers are aware that if they're breeding their herds to make profit from milk production, then £PLI is a good starting point.
But as a national index, £PLI inevitably plots a central course, taking no account of the milk contract on any particular farm. The production component of the index reflects an average milk contract with an eye on projected prices, so any breeder using it is likely to be breeding profitable dairy cows for the typical UK contract.
But what if each farmer could tailor their breeding index to maximise genetic potential and optimise their income from milk under their own payment structure?
Well, now they can, according to Andrew Holliday from Cogent, who says the Cogent Custom Index (£CCI) has been launched precisely for this purpose.


"In this day and age, farmers really need to maximise income and every small gain will make a difference to the bottom line," he says. "Selecting for the right type of genetics will help the producer achieve the bonuses on offer for selling milk of the desired composition."
"With this in mind, we tailor the £CCI to suit a cross-section of milk contracts, and you can choose your bulls from those identified as most suited to your herd, as well as your milk payment structure.
"For example, Arla suppliers see a strong emphasis on fat in their contracts so we emphasise this in their customised index," he says. "Müller Wiseman sees a more even balance between fat and
protein while contracts purely for cheese place a strong emphasis on milk solids in general and will usually penalise volume.
"All of this means that while national breeding indexes have an important place, there is scope to earn extra income from milk by tailoring your index, and ultimately your milk composition, more precisely to your buyer's needs."
The process for Cogent customers begins when the Genetics Consultant visits the producer, who has opted to use the service branded as PrecisionMAP.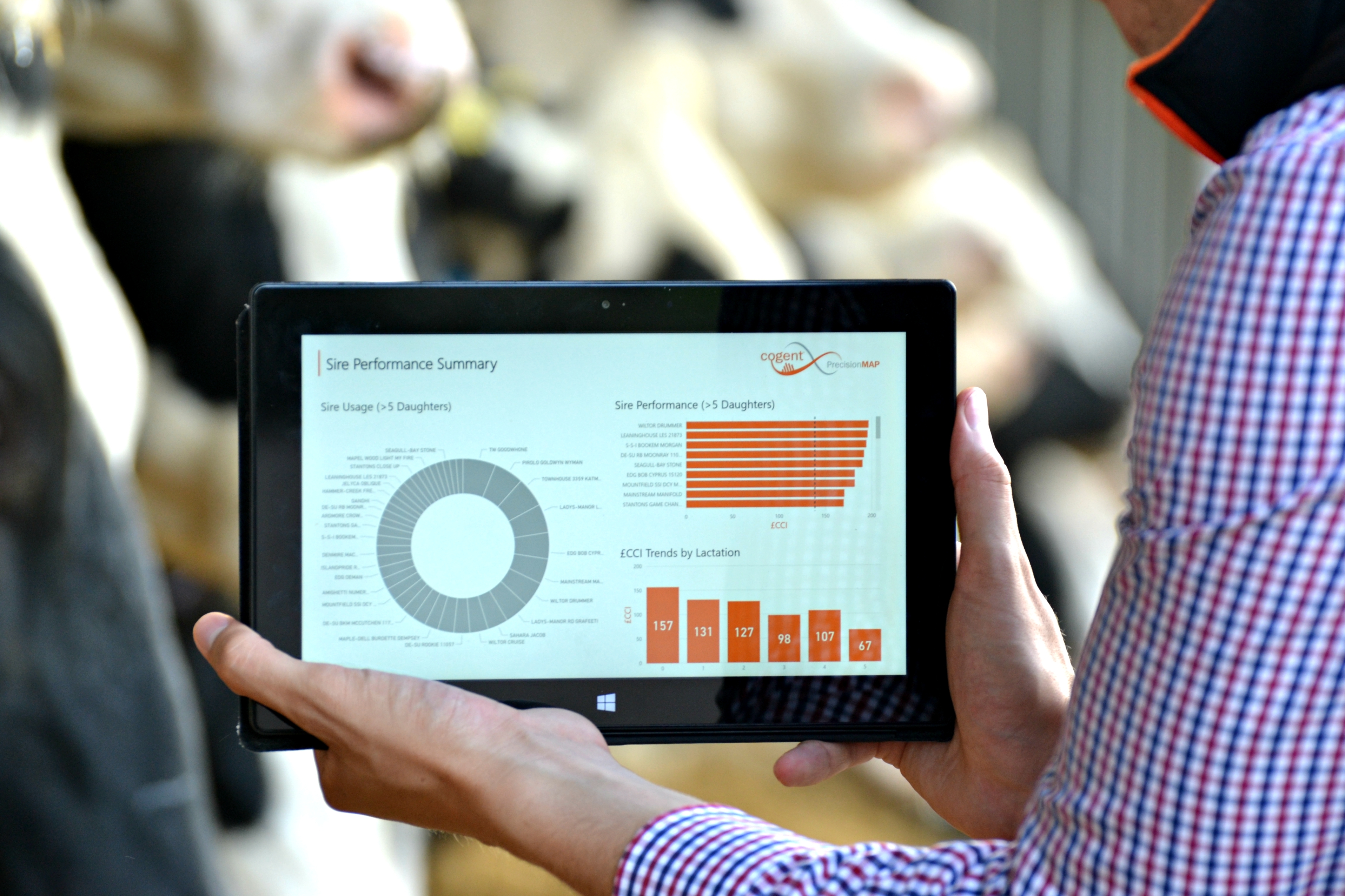 "They draw on the producer's own AHDB Dairy Herd Genetic Report for the first part of this process as it gives the best independent snapshot available of a herd's genetic strengths and weaknesses," says Mr Holliday. "Currently the service is only accessible to milk recording producers, so it stacks up to tap into this information and put it to further use."
The information from the report is presented by Cogent to the farmer in an easyto- use, visual format. Each element of the herd's genetics is displayed as a dial which shows at-a-glance where the herd stands in relation to national average.
Using the £CCI selected for each herd, the producer then receives a shortlist of sires. These are tailored to maximise income potential for the milk buyer the
herd supplies.
"Working through the information with the Cogent Genetics Consultant is often an enlightening experience," continues Mr Holliday. "The best animals for breeding replacements are identified through the process and if good breeding choices have been made, these should be the
younger generation."
The next part of the process is for the Genetics Consultant to identify groups recommended
for female sexed dairy semen. This is typically around 30% of the herd, leaving the remainder to breed to beef.
"The program quantifies the benefit of this strategy in every farm's own circumstances," he says. "This will be based on the number of cows in the herd and the dairy replacement rate and will give the overall return on investment as well as a benefit in pence per litre of the chosen route.


"Since the introduction of Cogent's sexed product, SexedULTRA 4M, the potential increase in a herd's margin through better genetics has never been so high," he says. "This helps explain why a sexed and-beef on dairy strategy is increasingly being recommended by farm management
consultants who have seen its impact on their customers' bottom lines.
"There are further additional benefits from the service including an assessment of
the sires the herd has used," he says.
"This can give a fascinating historic insight into individual sire performance. "Say, for example you saw a dip in milk production in your third lactation group," he says. "You could see which bulls had contributed to this and which had contributed most.
"It often shows the impact of stock bulls which all-too-frequently have lots of daughters," he says. "The data doesn't lie when it shows them at the bottom of the ranking, which can lead to some tough decisions!"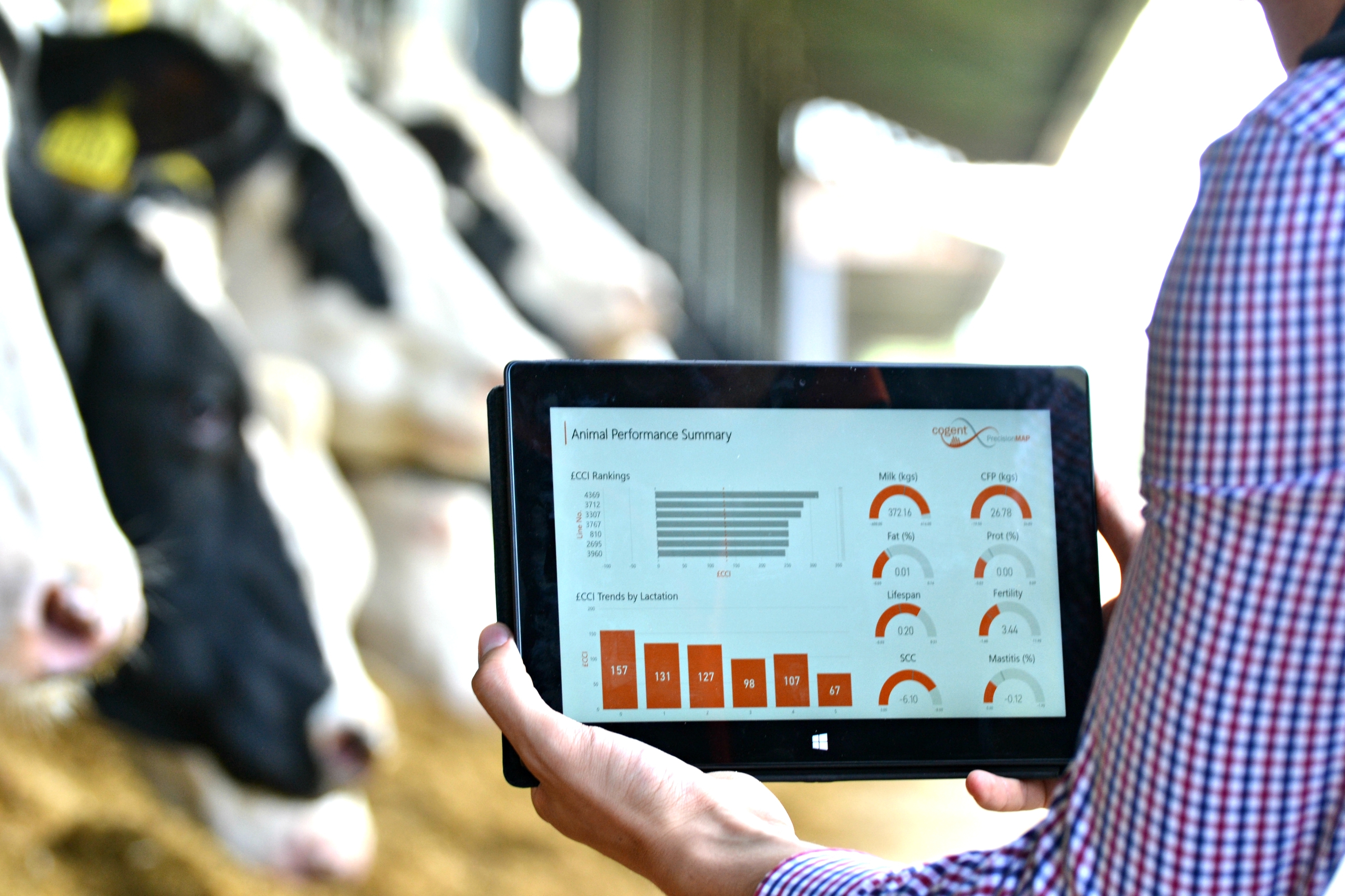 For more on the products or services mentioned in this article speak to your local Cogent Genetics Consultant or call 0800 783 7258.