GENOMICS TAKES FARM SELECTION TO A NEW LEVEL
Using genomic testing to identify the best replacements and serving them to sexed semen helps to increase selection pressure and drive genetic gain on one Anglesey farm.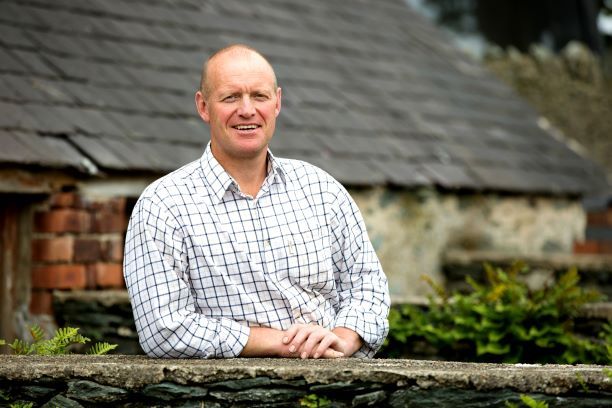 Trevor Lloyd believes combining genomic testing of heifers with a sexed and beef strategy could be a game changer for UK dairy farmers.
"It's exciting and groundbreaking. I think it's got the potential to be the next best thing since AI. It really has the potential to intensify your selection," he says.
Mr Lloyd runs the 420 cow Islandpride herd of pedigree Holsteins and Ayrshires at Ty Mawr Farm, Anglesey. Cows yield 10,400 litres at 4.2% fat and 3.4% protein.
His comments come 10 months into a trial breeding program run with Cogent and his milk processor, Arla. In that time, all heifers have been genomically tested, with the best put to Sexed ULTRA 4M semen. Sexed ULTRA 4M includes double the number of semen cells per straw than most sexed semen, which means it yields conception rates comparable to conventional. This has given Mr Lloyd the confidence to also use it on his best cows, based on the pedigree of the female. Everything else is put to beef.
Mr Lloyd comments: "I haven't used conventional semen for 12 months and I can't see me using it again. The 4M product is every bit of virile as conventional. Before the trial, we achieved total conception rates of 45% across 4,000 inseminations using conventional semen. With Sexed ULTRA 4M we achieved 49% on more than 1,000 inseminations."
Adopting a combined breeding approach brings several wins to the business; not only producing better quality heifers and less low value male dairy calves, but also driving selection intensity.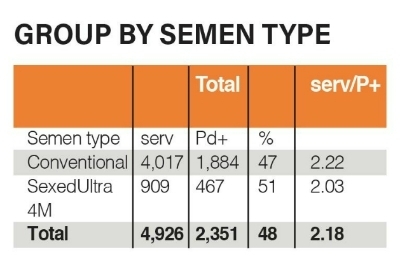 SELECTION INTENSITY
Since Arla's contracts shifted focus towards milk constituents, Mr Lloyd has been selecting for kilos of fat and protein. Breeding long-lived cows is also a key focus, with emphasis placed on lifespan, fertility and somatic cell counts.
He adds: "We select on lifespan. The main reason I cull is infertility so I need to select on fertility, but it's also low heritability so you have to put greater selection pressure on it."
The farm has been using Cogent's Precision Match service for several years to score and correctively mate cows based on these traits. "We have seen improvements from that," adds Mr Lloyd. "We'd started to see significant uplift in fat and protein yields and also better animals. We found corrective mating via the program was very effective."
Mr Lloyd has also become more strict when it comes to the number of chances he gives cows to get in calf to dairy semen. Rather than giving a 'good cow' 5-6 serves to dairy, now cows will be given a maximum of two serves and then put to beef. This will ultimately help drive fertility improvements.
The use of genomic testing takes the farm's selection program to a whole new level. The herd's specific breeding aims have been used to create the Cogent Custom Index (CCI). The CCI breeding index is produced for individual farms after taking into account their specific milk contract requirements.
A group of bulls are then selected to match these specific breeding aims in discussion with Cogent Business Development Manager, Rudolph Linde. Mr Lloyd currently uses eight Cogent dairy sires; Agronaut, Jones, Esquire, B52, Lancaster, Chairman, Fantastic and Rubicon. "We use a team of bulls to correctively mate. I can't emphasis how important that is to drive genetic gain," he says.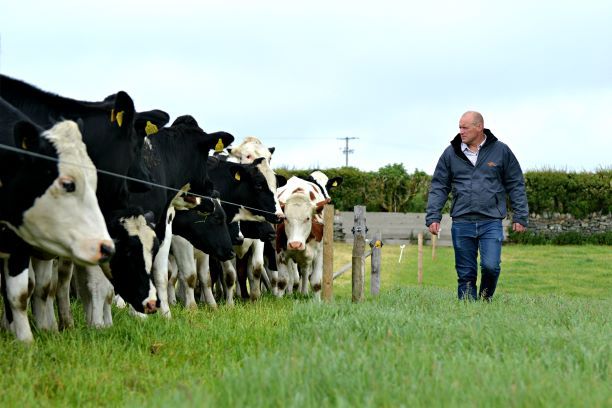 GENOMICS
The CCI for Ty Mawr Farm was also used to rank heifers based on their genomic test results, with the top 40% going to sexed and the rest to beef.
"We can now more closely analyse or highlight the best animal in the context of our breeding aims and breed the best. Our breeding goals haven't changed, just the ability to achieve those targets more quickly," explains Mr Lloyd.
In the future, the proportion of animals put to sexed will be reduced, as the farm team's confidence increases in the accuracy of genomic testing for more targeted use.
Generally the genomic test results tend to follow parent' breeding values. However there can be a significant number of outliers, as Trevor saw first hand following genomic screening of his heifers
"There's enough significant outliers or ones that get reranked that justify genomic testing - that's the killer reason to genomic test," he says.
BEEF
Cogent Fertility+ Aberdeen Angus semen is used on all of the lower end heifers and cows that are not put to sexed semen.
The fact less dairy bull calves are being produced and the beef animals that are produced have more value, has positive financial implications, with an Aberdeen Angus bull fetching about £150, versus about £35-40 for a pure-bred Holstein bull.
However, Mr Lloyd believes the moral and animal welfare implications of not producing low value dairy bull calves is far stronger.
"Ridding ourselves (the industry) of low value calves, that may be routinely euthanised, must be good for the industry. The less we have, the better," he says.
In fact he says this is one of the main reasons Arla initiated the trial breeding program with a sample of its suppliers. Mr Lloyd believes that moving forward, producing dairy bulls as a waste product of dairying is "simply irresponsible." Hence why combing the latest technologies to produce an efficient breeding strategy that maximises the value of everything produced on farm, whilst meeting consumer requirements is so important.
Find out how much you could make...
Please submit your details below and we will get in touch to produce a personalised herd audit on your farm, which will tell you your cost benefit of using this strategy! Please enter your post code into the message field.